VidaBox Announces STEALTH Silent Media Center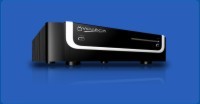 GARDEN CITY, NY - November 22 - VidaBox LLC announces a new silent media center / HTPC system, dubbed the VidaBox™ STEALTH™. Less than 3.6" tall, the STEALTH is a fully-featured, miniature form factor media center featuring a slot-loading DVD±RW dual-layer burner, dual analog tuners, and massive VidaSafe™-protected storage of up to 1,500GB.
"The STEALTH is perfect for those who consider silence and small size as definite must-haves, without compromising or sacrificing any features," says Steven Cheung, co-founder of VidaBox. "The STEALTH really shines in home theaters, where noise must be kept to an absolute minimum. Our unique system design, using special heat pipes and heat sinks in conjunction with sound deadening hard drive and DVD drive enclosures, keeps the system completely silent without the use of any fans - which are a major source of noise pollution. The VidaBox STEALTH is so small and quiet - you won't even know it's there!"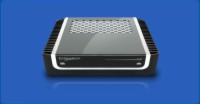 The STEALTH can be configured with state-of-the-art hardware, such as the AMD AM2 5200+ Dual-Core CPU, 4GB of RAM, 7950GT video card with dual DVI outputs, or an HDMI 1.2 output with HDCP compliance. Dual analog standard definition tuners with dual high-definition (HD) tuners are also available to record up to four (4) TV shows at once.
"Best of all, the entire system is packaged in a stunningly beautiful case, featuring a black anodized finish, an acrylic glass front panel, along with premium, hi-fi style component feet," Steven continues. "Unlike traditional, passively cooled systems with industrial-looking cases, the STEALTH is truly the first small form factor system that you'll want to show off to your family & friends!"
For more details and specifications on the new VidaBox STEALTH, please visit the company website at http://www.vidabox.com or call (516) 730-7500.
About VidaBox LLC
VidaBox LLC is a systems integration company focused on manufacturing premium Media Center systems. VidaBox is on a mission to create user-friendly, stable, compact, and quiet Media Center systems that work right out of the box. For more information, visit www.vidabox.com or call 1-516-730-7500.