Velodyne Introduces Remote-Controlled, DSP-Controlled DLS-R Series Subwoofers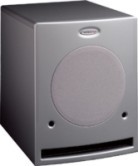 Morgan Hill, CA - August 30, 2004 - Velodyne Acoustics Inc., the world's leading manufacturer of powered subwoofers for home-theater and consumer audio, introduces the computer-controlled Distortion Limiting System (DLS-R) Series subwoofers, with one touch presets using a remote control. The DLS-R series starts at $399.
On the DLS-R Series full-featured remote are four listening preferences - Movies, R & B - Rock, Jazz - Classical and Games. In addition, the remote provides controls for a Night Mode setting which limits the maximum output of the subwoofer for late night listening, volume control, light control and a four-position phase adjustment. A Texas Instruments DSP (Digital Signal Processing) computer chip manages all functions of the DLS-R which not only includes the four presets, Night Mode and volume control, but also low-pass crossover and slope, subsonic frequency and slope, frequency response equalization, distortion-limiting, and protection circuitry.
Powered by Maximum Dynamic Power (MDP) amplifiers, the DLS-R Series consists of four models: the DLS-3500R with an 8" forward firing driver (6.3" piston diameter), the DLS-3750R with a 10" forward firing driver (8.2" piston diameter), DLS-4000R with a 12" forward firing driver (9.9" piston diameter) and the DLS-5000R with a 15" forward firing driver (12.7" piston diameter). The DLS-3500R, DLS-3750R, and DLS-4000R deliver 350, 375, and 400 watts of peak power respectively (160, 175, and 200 watts of continuous power), and the Class D amp in the DLS-5000R produces 1000 watts of dynamic power and 500 watts of continuous power.
Velodyne's exclusive Distortion Limiting System significantly improves the subwoofers' performance by limiting audible amplifier distortion and controlling the driver excursion. This produces measurable performance advantages including more usable power, deeper bass extension and less distortion. Utilizing this exclusive technology, the DLS-R subwoofers reproduce music and home theater with a fraction of the audible distortion found in competitive products without sacrificing output or dynamics.
DLS-R cabinets are finished in black ash with front panels finished with 15 coats of high-gloss, hand-buffed, black or silver lacquers (silver available only on the DLS-3500R and DLS-3750R models). The DLS-R Series cabinets are engineered using a front-firing slotted, bass-reflex design for easy installation. With this design, all the bass energy is generated forward to minimize the distortion and maximize bass impact.
The DLS-R Series subwoofers are available for audition and purchase at Velodyne's authorized dealer network. The suggested retail pricing of the four models in the series ranges from $399 to $799.
About Velodyne
Velodyne Acoustics, Inc., founded in 1983, is universally recognized as the leading manufacturer of high-performance, low distortion powered subwoofers at all price levels. Headquartered in Silicon Valley, California, the company's technically innovative audio products are available through a select group of authorized dealers, custom installers, and distributors worldwide. For more information visit www.velodyne.com .