Velodyne Acoustics Implements TI Controllers in New Subwoofers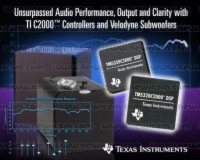 HOUSTON, Oct. 25 - Helping deliver highly acclaimed audio performance and clarity to home theater enthusiasts' and music aficionados' ears, Texas Instruments Incorporated announced that Velodyne Acoustics, the leading supplier of high performance subwoofers, is now using TI's TMS320C2000 platform of digital signal controllers across all new subwoofers -- including the latest Small, Precise, Loud (SPL-R) Series. Velodyne has now incorporated TI digital signal processing (DSP)-based controller technology in subwoofers ranging in price from $399 to $14,999. For more information on C2000 controllers, see http://www.ti.com/c2000 .
The Digital Drive® (DD) Series and Distortion Limiting Series (DLS-R) subwoofers introduced in 2004 already feature C2000 controller technology. The latest subwoofer series, the SPL-R, features a small cabinet size of just 10 x 10 x 12 inches yet delivers 2000 watts of dynamic power with one-sixth the amount of distortion level of competitive systems.
Critics have been universal in their praise of Velodyne's state-of-the-art technology enabled by TI DSP-based controllers. Home Cinema Choice Magazine notes, "The technology and digital signal processing used on this product leaves all that have come before it in the dark ages." Sterophile magazine states, "My strongest recommendation ... after using Velodyne's Digital Drive software, I don't understand how anyone will be able to go back to tuning a subwoofer by ear." Robb Report's Home Entertainment Magazine comments, "Velodyne's Digital Drive DD-15 subwoofer improves bass reproduction as much as the jet engine improved air travel."
Digital Technology Provides High Precision Audio Reproduction
Velodyne's digital High Gain Servo technology is used in all Digital Drive subwoofers. This patented technology uses a sealed digital accelerometer to measure the actual movement of the subwoofer cone. The C2000(TM) controller then compares the cone movement to the input signal at a rate of 15,800 times per second and instructs the 1250 watt amplifier to modify its signal, keeping the cone's motion under control. This system enables the construction of subwoofers with exceptional definition and low distortion. Typical distortion rates at normal listening levels are well below 0.5% -- many times less distortion than that found in competing products.
Room Correction and Main Speaker Interface
A subwoofer faces two main challenges when combined with a home theater or music system-integration with the main speakers and overcoming acoustic room anomalies. Integration is achieved through adjustments to volume, crossover and phase adjustments as well as subwoofer placement in the room. Velodyne uses TI's C2000(TM) controllers and a real-time video output to display volume, crossover and phase adjustments enabling a perfect match with subwoofer and the main speakers every time. Acoustic room anomalies are overcome through automatic digital equalization to adjust 6 and 8 band EQs in the SPL-R and Digital Drive series, respectively. The subwoofer generates a sweep tone that the included microphone detects and then automatically adjusts the digital EQ in order to minimize the effects of room modes. This process is totally automated via the C2000 controller and provides cost-effective, dramatically improved room equalization and adaptation to bass room anomalies than previously available.
"By integrating TI's C2000 controllers into all new subwoofers we make, we've taken a big step forward in bass reproduction. We can leverage the feature set and integration capabilities of the C2000 line into digital calibration and setup options that allow our subwoofers to perform unlike any other subwoofer," said Bruce Hall, president, Velodyne Acoustics, Inc. "We quickly realized that all subwoofers would eventually be digitally controlled. The benefits over conventional analog control are too great to ignore."
Leading Embedded Control Technology from TI
Combining the real-time performance of TI's leading digital signal processors (DSP) with the peripheral integration, C-language efficiency and ease of use of a microcontroller (MCU), C2000(TM) controllers integrate up to 265 Kilobytes (KB) of flash memory for simple reprogramming during development and in-field software updates. Optimized control peripherals include PWM generators, programmable general-purpose timers, capture modules for time stamping and glueless quadrature encoder interfaces. The C2000 platform also features up to 12-bit analog-to-digital converters (ADC) that provide fast conversions -- up to 12.5 MSPS -- for tight control loops. Up to five different on-chip standard communication ports, including CAN, provide simple communication interfaces to hosts, test equipment, displays and other components or networks. All program code for Velodyne's digitally controlled subwoofers was written by Velodyne's engineers using TI's Code Composer Studio(TM) Integrated Development Environment (IDE) and debugger.
Velodyne also leveraged TI's full range of analog products including Hex Invertors, Op Amps, Dual D-Type Positive-Edge-Triggered Flip-Flops and Triple 3-Input Positive-And Gates.
TI Enables Innovation with Broad Range of Controllers
From ultra low power MSP430 and 32-bit general purpose TMS470 ARM7-based MCUs to high performance TMS320C2000(TM) digital signal controllers, TI offers designers the broadest range of embedded control solutions. Designers can also accelerate their design to market by tapping into TI's complete software and hardware tools, extensive third party offerings and technical support.
About Velodyne
Velodyne Acoustics is the industry leader in loudspeaker styling, performance, and value. Since the company's inception in 1983, Velodyne has been acclaimed by industry experts, audiophiles and home theater enthusiasts for its innovative designs, close tolerance manufacturing and exceptional performance. For more information on Velodyne's full range of subwoofers, please visit http://www.velodyne.com .
About TI
Texas Instruments Incorporated provides innovative DSP and analog technologies to meet our customers' real world signal processing requirements. In addition to Semiconductor, the company's businesses include Sensors & Controls, and Educational & Productivity Solutions. TI is headquartered in Dallas, Texas, and has manufacturing, design or sales operations in more than 25 countries.
Texas Instruments is traded on the New York Stock Exchange under the symbol TXN. More information is located on the World Wide Web at http://www.ti.com .