Universal Studios Home Video Announces DVD Release of 'Dawn of the Dead'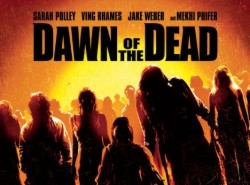 UNIVERSAL CITY, Calif., Aug. 13 - Look out! The dead are returning again! Just in time for Halloween and exploding with heart-stopping surprises and nerve-shredding fun, comes the DVD release of "Dawn of the Dead" on October 26, 2004. The DVD will be released in both a horrifying new version considered too scary for theater audiences, the "Dawn of the Dead Unrated Director's Cut," containing additional footage that not only extends the movie experience but turns up the terror temperature, and the theatrical version. An edge-of-your-seat roller coaster ride that FOX-TV calls "one of the best horror flicks in years," "Dawn of the Dead" is priced at $29.98 SRP and is also available on VHS for $22.98 SRP. Pre-order close is September 14 for DVD and September 28 for VHS.
A Screamfest of DVD Bonus Features
Both the rated and unrated "Dawn of the Dead" DVDs contain exciting bonus materials that deliver a frightfest of scary fun for fans, including two original segments created especially for the DVD: "The Lost Tape," a video diary containing over 15 minutes of the last days of Andy, one of the survivors; and "Special Bulletin," increasingly grim news reports about the zombie invasions that expand the film's nightmarish storyline. Also included are nail-biting deleted scenes, "incisive" interviews, commentaries from the cast and filmmakers, and featurettes about the creation of the unforgettably gruesome zombies.
Starring Mekhi Phifer ("8 Mile," "Honey"), Sarah Polley ("Go"), Ving Rhames ("Mission: Impossible," "Pulp Fiction") and Jake Weber ("The Cell"), and directed by Zack Snyder, "Dawn of the Dead" follows a handful of survivors as they wage a desperate last stand to stay alive ... .and human ... as a mysterious virus turns people into voracious zombies who feed on the living.
Extra Features, Extra Frights! The "Dawn of the Dead" DVDs include these bone-chilling extras: * The Lost Tape: Over 15 minutes of Terrifying Footage Revealed Chilling images from a recovered "home movie" documents Andy's last horrific days as he battles the zombie hordes outside his gun shop -- and fights to maintain his sanity! Shot exclusively for the DVD * Special Bulletin: Zombie Invasion! Startling news coverage includes panicked updates from the White House and scientific experts as the nation is thrown into chaos! Shot exclusively for the DVD * Over 12 Minutes of Deleted Scenes Pulse-pounding scenes too terrifying for the final theatrical release! With optional commentary from director Zack Snyder. * Surviving the Dawn: Dare to Face Your Fears! A behind the screams feature with cast interviews, on-location footage and more! * Commentary Director Zack Snyder and producer Eric Newman offer their dead-on perspectives about making the film.
The "Dawn of the Dead Unrated Director's Cut" cranks up the terror level even higher with all of the above plus these exclusive horrifying special features:
Splitting Headaches: Anatomy of Exploding Heads -- The gory details of how the filmmakers made the head-kills in the film look so believable.
Attack of the Living Dead -- Dissecting the film's most memorable zombie kills
Raising the Dead -- An in-depth look at turning actors into undead killers
They're Dead ... Well, Dead-ish!
Heart-pounding action and bone-chilling thrills power this edgy, electrifying fright-fest starring Mekhi Phifer, Ving Rhames and Sarah Polley.
An unexplained plague has decimated the world's population and yet ... the dead aren't dying. They've become zombies stalking endlessly in a constant quest to feed on the flesh and blood of the few remaining living.
A ragtag group of desperate survivors seek refuge in a large indoor mall, where they must learn not only to protect themselves from the ever-increasing zombie horde, but also co-exist with each other as a last bastion of humanity. Sealed off from the rest of what used to be the world, the group uses every available resource in their against-all-odds fight to remain alive and human.
CAST & FILMMAKERS Director: Zack Snyder
Screenwriter: James Gunn
Based on a Screenplay by: George A. Romero
Producers: Richard P. Rubinstein, Marc Abraham and Eric Newman
Executive Producers: Thomas A. Bliss, Dennis E. Jones, Armyan Bernstein
Director of Photography: Matthew F. Leonetti
Production Designer: Andrew Neskoromny
Editor: Niven Howie
Costume Designer: Denise Cronenberg
Makeup Designer: David LeRoy Anderson
Composer: Tyler Bates
Cast: Mekhi Phifer, Ving Rhames, Sarah Polley, Jake Weber, Ty Burrell, Michael Kelly, Kevin Zegers, Michael Barry, Lindy Booth
TECHNICAL INFORMATION
DVD Street Date: October 26, 2004
Pre-Order Date: September 14, 2004
Price: $29.98 SRP ($19.95 MAP)
About Universal Home Video
Universal Studios Home Video is a unit of Universal Pictures, a division of Universal Studios. Universal Studios is a part of NBC Universal, one of the world's leading media and entertainment companies in the development, production, and marketing of entertainment, news, and information to a global audience. Formed in May 2004 through the combining of NBC and Vivendi Universal Entertainment, NBC Universal owns and operates the No. 1 television network, the fastest-growing Spanish-language network, a valuable portfolio of news and entertainment networks, a premier motion picture company, significant television production operations, a leading television stations group, and world-renowned theme parks. NBC Universal is 80%-owned by General Electric, with 20% controlled by Vivendi Universal.