Ultra-D Glasses-free 3D Debuting at CES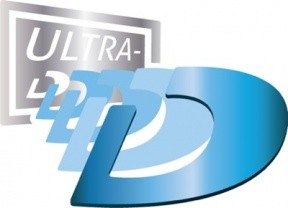 Ultra-D Glasses-free 3D Debuting at CES
Stream TV Networks is a rather obscure company, but it's making a splash at CES this year by announcing that it is debuting a new glasses-free 3D technology called Ultra-D. To add fuel to the fire, the fledgling company is claiming that Ultra-D "surpasses all 3D viewing experiences offered to date."
That's a bold claim.
Instead of using active or even passive shutter glasses, Ultra-D uses proprietary hardware and software to create fully autostereoscopic 3D imagery in both 2D and 3D-native content. That means that Ultra-D not only performs 2D-to-3D conversion, it even takes normal 3D content that would require glasses, and renders it in its autostereoscopic form to remove all need for glasses. Now, we've seen this in mockup displays dating as far back as 2007, but to see a product actually hit the market will be fascinating. Of course, as no one I know has even heard of Stream TV Networks, it's anyone's guess as to whether the system will take off, either as a product or licensable technology.
Ultra-D is designed to work with any digital input, including Blu-ray, DVD, PC gaming, Internet, cable and satellite TV content. Like most current 3D systems, Ultra-D lets you increase or decrease the real-time 3D rendering effect. This means you can vary the extent of the effect and alleviate the amount to help reduce eye strain and fatigue.
Stream TV Networks goal was to create a solution that addresses existing concerns impeding the adoption of 3D: consumer aversion to expensive glasses, viewer discomfort, and - as a result - the slow creation of 3D content. 
So will this enable a faster adoption of 3D TV? It seems to us that the unifying, and erroneous in our opinion, opinion of everyone involved in 3D is that somehow the format will become the next standard. And by "standard" we mean that it will all but replace 2D viewing. Based on what we've seen to far that just seems untenable, particularly due to the eye strain issues. Until 3D viewing becomes natural and doesn't cross your eyes, glasses won't be the primary inhibiting factor.
agarwalro posts on December 23, 2011 23:24
SIGH! I won't hold my breath.

It's been said a million times so why not once more. If only production companies focus on good content rather than gimmicks, their efforts will be significantly better rewarded.
Post Reply