Twonky and Rovi Digital Media Go Mobile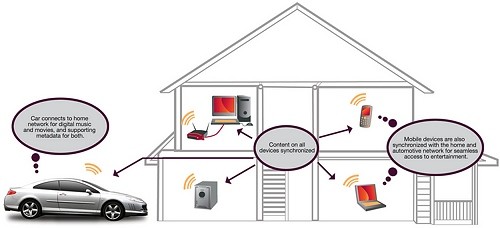 Twonky & Rovi Go Mobile
Last week was the 10th annual Detroit Telematics Conference, a two-day demo of futuristic mobile technology. The buzz this year was all over mobile apps and platforms as part of a whole digital ecosystem that extends from the cloud, throughout your home, mobile device and into your car.
Telematics is loosely defined as wireless communications technology, the phrase has been largely co-opted by the auto-industry to mean digitally connected cars and automotive devices. Digital connectivity in the car is no longer restricted to Satellite Radio or GPS systems. Instead, a combination of satellite, wireless digital networks and in-car sensors are shaping up to build the future of Knight Rider's intelligent car, Kit.
Although many of the ideas on display at the Telematics show were incomplete or lacked a distribution channel, that's the real beauty of a real industry trade show. It represents a future potential rather than, like CES, a forum to advertise and announce polished products.
Two of the more polished demonstrations included Twonky and Rovi. Both sytems used local wi-fi network to extended digital media throughout your home and into your car. The Twonky demo had a certain polish and completeness that Rovi lacked, it seemed like more of a platform waiting for an implementation.
Twonky Goes for a Ride
At the show - PacketVideo and JDM System Consultants announced they're bringing Twonky for a ride in your car. PacketVideo system's media sharing solution TwonkyMedia has been a reference server for the Digital Living Network Association (DLNA) since 2007. 
The partnership will bring Twonky Media network to DLNA, UPnP and wireless digital head-units and media storage systems for your car. JDM has developed a unique set of voice-enabled controls allowing drivers to manage their mobile music collection with simple voice commands. Drivers will be able to play, stop, pause and mute digital media without taking their attention from the road. Together with Twonky's connectivity products, users will be able to share music, movies, photos and even the AV Rant podcast with ease. 
Rovi
One of the earliest names in DRM, dating back to the 80s, Macrovision is now known as Rovi. Ironically, Rovi is attempting to blaze new ground in the media-sharing business (as opposed to prevent sharing) with its Connected Platform. It's another platform in search of a manufacturer (OEM) to plug Rovi's software into their products. Connected Platform offers complete interoperability between home and mobile entertainment products through standards like DLNA, UPnP, DTCP-IP and OCAP/Tru2way. These home media devices share digital media throughout the home as well as into your smartphone or automobile.
Rovi has another offering for devices looking to incorporate the Connected Platform into their media devices - Lasso media recognition system. Lasso is like the Compact Disc Database (CDDB), except it's designed for any digital media. Lasso will recognize and then assign metadata to your media, helping to organize your digital collection.
At the show Rovi demonstrated a 2-din Kenwood head-unit (with a bold full-color screen) that could recognize your digital media and would display metadata, including album cover art on-screen. The head unit itself was not connected to a network. Instead it would rely on Rovi's massive media database that the exhibitors claimed would recognize over 80% of your media. Downloadable updates were available online that could be loaded onto the car stereo system. Future products incorporating Connected Platform and Lasso are likely to be digitally connected, so Lasso's library updates would be automatic. 
Unfortunately this particular Kenwood head-unit was only available in Japan at the moment.
This telematics ecosystem and cloud we heard so much about at the show (I find ecosystem a poor choice for an industry buzzword but that's another story) gives us a glimpse into the direction of digital media. Someday your entire movie, music and photo collection will be dragged and dropped wherever you want or will already be in the cloud waiting for you to access – whenever, wherever and however you want.
Recent Forum Posts: