Turtle Beach Announces Ear Force X2 Headphones for Xbox 360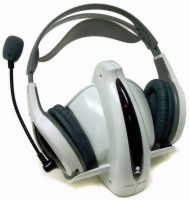 YONKERS, NY - April 21, 2006 - Turtle Beach announced today that its Ear Force X2 headphones for the Xbox® 360 and Xbox gaming systems have been named the Official Headset of Major League Gaming (MLG). The Ear Force X2 headphones, which became available at retail in March, are the first to deliver game audio in stereo and Xbox Live Internet chat directly to gamers' ears.
Major League Gaming's 2006 season features competitions in seven U.S. markets, beginning in the New York metropolitan area (April 21 - 23) at the Meadowlands. The subsequent events will take place in Dallas (May), Atlanta (June), Los Angeles (July), Philadelphia (August), Chicago (October) and Las Vegas (November).
"As representatives of the serious gaming community we chose the Ear Force X2 headphones for our competitive events because of the quality and innovative nature of their headphones," said Erik Semmelhack, EVP of Global Sales and Partnerships of Major League Gaming. "We look forward to a successful partnership with Turtle Beach over the course of this year's gaming season."
"Major League Gaming is an exciting arena for the best gamers in the world," said Seth Dotterer, director of marketing for Turtle Beach. "This high profile series of events is the ideal stage for the Ear Force X2 headphones, a peripheral that revolutionizes the way Xbox 360 and Xbox gamers experience their favorite games."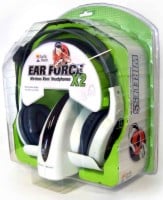 The Ear Force X2 Competitive Edge
The Turtle Beach Ear Force X2 wireless headphones are the first to integrate Xbox game audio and online chat wirelessly for a totally immersive experience, particularly during Xbox Live® sessions.
Stylishly designed to complement the Xbox 360's wireless controller, the X2s provide total freedom of movement around the room and hours of comfortable wear. Up to now gamers have had to resort to hearing chat in one ear and mono game sound in the other, but the X2 headphones are the first to provide all audio to both ears wirelessly at the highest possible fidelity. Gamers clearly hear not only the trash talk of online opponents, but also every crash, explosion and footstep of their virtual worlds-effectively blocking out all distractions for a competitive advantage.
The Ear Force X2 infrared base unit transmits heart-thumping stereo game audio from the Xbox or Xbox 360 game console to the X2 headphones, eliminating the need for a cable to be run to the game console. The headphones also feature a durable microphone with an adjustable boom that can be moved to any preferred position for precise placement, or away from the gamer's face in between battles.
"Today's gamers are extremely demanding about their audio at all times, and a late-night campaign is no exception," said Seth Dotterer, director of marketing for Turtle Beach. "The X2 headphones let those gamers experience the game the way it was meant to be-hearing their friends sneak up behind them, and then telling them exactly what they think of their efforts."
The Ear Force X2 have an MSRP of $99.95, and are available at Best Buy and Circuit City outlets nationwide, as well as through the Turtle Beach website (www.TurtleBeach.com) and direct sales center (1-800-233-9377 or 914-966-0600). For more information, visit www.turtle-beach.com/site/products/earforce/x2.
About Major League Gaming (MLG)
MLG is the first professional video game league. By raising video game competition to the level of professional sport, the company is creating a sports media business that provides players, developers, publishers, media partners, and advertisers a unique connection to the video game lifestyle enjoyed by 168 million Americans. With the support of major sponsors, MLG operates a pro tour that in 2006 will make 7 stops in major cities across the U.S., exclusively featuring the best gamers in the world. We produce a variety of online and broadcast-quality programming that showcases MLG's Pros and this exciting new sports entertainment phenomenon. More information can be found at www.mlgpro.com.
About Turtle Beach
Turtle Beach (www.turtlebeach.com) designs, manufactures and markets high quality, competitively-priced audio peripherals for video game consoles and personal computers. Famous for its innovative, award-winning line of Audio Advantage® USB and Santa Cruz™ computer soundcards, Turtle Beach is winning acclaim worldwide for its growing line of Ear Force® headphones, which are designed for the uncompromising gamer who demands the best audio experience possible.