Turn Your PC into a Satellite TiVo System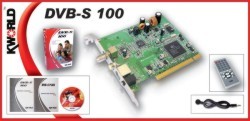 Irvine, California - KWorld Computer Co. Ltd., manufacturer of a full line of multi-media processing equipment for the PC marketplace, announces the DVB-S Satellite Receiver System, a single PCI card conversion system that turns any PC (from a Pentium 4, 1.6 GHz up) into a Satellite Tuner/Recorder with full featured, Tivo® style capabilities including an IR Remote control.
"There are hundreds of FREE satellite channels that anybody with a PC, satellite dish, and our PC card can receive, record, and play" says Robert Chen, Vice-President of KWorld. "With over 200 FREE satellite channels available in the United States including categories like, MTV, sports, religion, education, and movies, we're putting the world's broadcast media at people's fingertips."
"And, since many of the channels are available in foreign languages, it's the perfect system for people to keep up with what's happening in their native land in their native tongue"
The DVB-S Satellite Receiver System is a satellite receiving and processing card, complete with IR remote control to capture, control, and manipulate the reception, recording, and playback of programs from satellite sources offering free-to-air programming on your PC system.
The DVB-S Satellite Receiver System puts the world of FREE satellite television at your fingertips. The self contained system includes all the software needed to program and record available free-to-air satellite television within the receiving area of the user's satellite dish.
Features include time shifting, scheduling, editing, and titling software plus VCD/DVD burning programs to create hard copies of recorded material.
Minimum system requirements for The DVB-S Satellite Receiver System includes Intel Pentium 4, or compatible system operating at 1.6 GHz or higher, Windows XP Operating system, 128 MB of system memory, 1 GB free HD space, available PCI 2.2 slot for the DVB-S System card, Graphics system with 64 MB or greater of frame buffer and Microsoft Direct x9.0 support, and a SoundBlaster® 16 compatible card with speakers, and a Universal Digital Satellite Dish and LNB.
The DVB-S Satellite Receiver System ships with all necessary cables, software, detailed instruction manuals, and a full function IR remote control/receiver pickup. For more information, please visit
www.kworldcomputer.com
.