Truce Officially Signed, Toshiba Applies to Make Blu-ray Players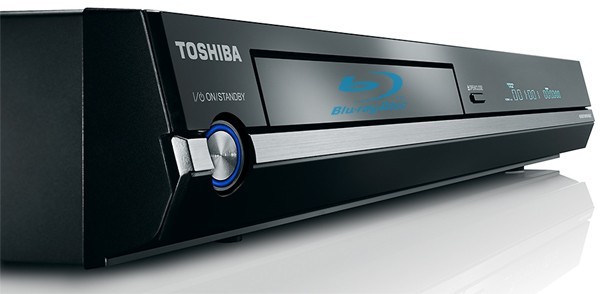 Toshiba Wants a Blu-ray Player
Following last month's rumors, first brought to light in the Japanese newspaper Yomiuri Shimbun, Toshiba has finally applied for membership in the Blu-ray Disc Association:
Toshiba Applies to Join Blu-ray Disc Association

10 Aug, 2009

Tokyo—Toshiba Corporation (TOKYO: 6502) announced today that the company has applied for membership of the Blu-ray Disc Association (BDA) and plans to introduce products that support the Blu-ray format.

As a market leader in digital technologies, Toshiba provides a wide range of advanced digital products, such as DVD recorders and players, HDTVs and notebook PCs that support a wide range of storage devices, including hard disk drives (HDD), DVD, and SD Cards. In light of recent growth in digital devices supporting the Blu-ray format, combined with market demand from consumers and retailers alike, Toshiba has decided to join the BDA.

Toshiba aims to introduce digital products that support the Blu-ray format, including BD players and notebook PCs integrating BD drives, in the course of this year. Details of the products, including the timing of regional launches, are now under consideration. We will make announcements in due course.
The change of heart comes after, initially, Toshiba President and CEO Atsutoshi Nishida said the company had no plans to bring a Blu-ray player to market.  It took a year and a half for Toshiba to recover enough to have the fortitude to swallow its pride and join the rest of the industry.  The company spent the intervening time foundering about with grandiose plans to make HD out of SD using augmented DVD players and televisions with Cell processors.
Although Toshiba has had access to Blue-ray optical drive technology for a number of years through a controlling interest in Toshiba Samsung Storage Technology Corporation, the company has never produced a Blu-ray device under its own name and has refused to join the Blu-ray Disc Association to do so.  What this illustrates is the psychotic and incestual nature of modern business practices.  While Toshiba was fighting Sony and friends for the dominance of HD-DVD over Blu-ray, the two sides were part of an alliance known as STI, Sony Toshiba IBM, which developed the cell microprocessor for Sony's intended market flanking maneuver for Blu-ray, the Play Station 3.  Meanwhile, IBM was simultaneously working with Microsoft to produce the processor for the Xbox 360 and Sony sold a significant portion of its joint ownership in cell production facilities to Toshiba, and now sources cell chips from them.  Not to mention that Sony is a member of the DVD forum that backed HD-DVD as well as a member of the AVS Workgroup behind the China Blue High Definition format based on HD-DVD technology. 
So, are they friends or enemies?
With all the seemly cooperative fronts, the format war did not have to happen, but each side was sure they had a clear advantage.
Cooperation by businesses varies by project and depends on perceived advantage as companies jostle in an attempt to one up each other while still hedging their bets.  Companies making nice on one project, stabbing each other in the back on another, the left hand does not care what the right hand is doing as long as both hands think they can come out ahead.  It's a bit convoluted and certainly not sane, making one wonder how companies can ever get along knowing that any miscalculation could make the others pounce.  Toshiba's HD-DVD bet lost, but they quietly and indirectly had a finger in Blu-ray all along, just as Sony had and has a finger in HD-DVD and its Chinese progeny.
Now Toshiba is finally making it official with direct support of Blu-ray and players due out later this year. 
Too bad this didn't happen three or four years ago.