Tripp Lite SmartRack SRW6U Wall Mount Rack Enclosure Cabinet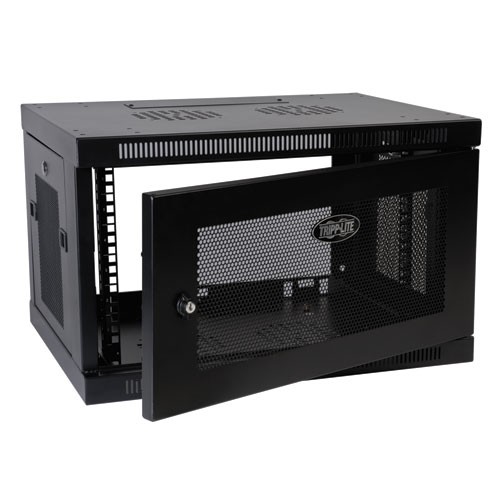 Tripp Lite SmartRack SRW6U
Tripp Lite has added a new 6U model to its line of SmartRack Wall-Mount Rack Enclosure Cabinets (model SRW6U). The compact SRW6U is an ideal solution for cramped network/wiring closets, remote network sites, branch offices and more. When wall-mounted, it frees up valuable floor space and with the addition of an optional caster kit, it becomes a mobile floor unit that rolls neatly into a corner or under a desk. The SRW6U 6U Wall Mount Rack Enclosure Cabinet is designed to integrate wall-mounting, easy equipment access, and cable management in IT network applications with limited floor space. A ventilated front door and side panels allows generous airflow to keep equipment operating safely. Adjustable rack rails with square mounting holes accommodate up to 6U of standard 19" rack mount equipment. The rack supports up to 140 lbs of equipment and a sturdy wall-mount bracket (included) allows the cabinet to quickly be hung on the wall.
Key Features and Benefits
6U wall-mounted enclosure
Adjustable mounting depths up to 17" inches
Ventilated front door and side panels for increased airflow
Locking, reversible front door
Locking, removable  side panels
Fully assembled for quick installation
5 year warranty
"Tripp Lite introduced its line of wall-mount rack enclosure cabinets to meet the need for a secure rack solution in space-critical and non-traditional applications such as wiring closets, remote sites and satellite offices," said Tripp Lite Product Manager Craig Watkins. "This new 6U model adds to the flexibility of our wall-mount enclosure line by offering a solution that's exceptionally compact and economical."
For more information on the new SmartRack model SRW6U, please visit www.tripplite.com.