Tripp Lite Intros HT500PC Isobar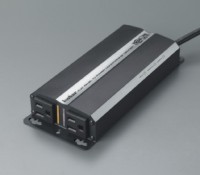 Chicago, IL - November 29, 2005 - Tripp Lite, a world-leading manufacturer of power protection equipment, has introduced a new Isobar® Power Conditioning Center, the HT500PC, designed to provide the best protection and cleanest power available for flat-panel TVs and front-screen projectors.
The HT500PC Power Conditioning Center assures clearer, crisper audio/video performance and longer electronic equipment life spans by filtering disruptive line noise and blocking damaging surges. It features a 5100-joule surge absorption rating, all-metal case, two outlets (TV and accessory), a 10-foot shielded cord with space-saving right-angle plug, remote control capability and three diagnostic LEDs. Its low-profile housing allows for unobtrusive installation behind any flat-panel TV (LCD, plasma or HDTV).
The HT500PC incorporates Tripp Lite's exclusive Isobar surge suppression technology. Compared with other power conditioning centers, it offers a substantially larger and more robust surge/noise blocking architecture. The HT500PC's premium surge protection performance is backed by $100,000 Ultimate Lifetime Insurance coverage for connected components.
"We've seen installations of the HT500PC that transformed image and audio quality from unacceptable to flawless," said Jim Folk, Tripp Lite Executive Vice President. "With this outstanding performance, plus the additional protection of connected equipment insurance coverage, the HT500PC is virtually a required attachment for plasma and flat-panel TV installations."
He added that in contrast to many competitors who sell through broad retail and Internet channels, the distribution of Tripp Lite's new Power Conditioning Center will be limited to professional dealers and installers.
The HT500PC Power Conditioning Center has been awarded Best Power Protection Product by CustomRetailer magazine's Excite Awards. The CustomRetailer Excite Awards recognizes products for their outstanding design and engineering. Tripp Lite has also been selected as a Strategic Lifeware Compatibility Partner by Exceptional Innovation. This partnership assures that Tripp Lite's A/V power protection products, including the HT500PC, are fully compatible with Exceptional Innovation Lifeware Software.
For additional information on Tripp Lite's new HT500PC Power Conditioning Centers, call Dennis Mariasis at (773) 869-1273 or visit www.tripplite.com .
About Tripp Lite
Enhanced service and industry-exclusive products have been Tripp Lite trademarks for more than 80 years. Tripp Lite's innovations include the world's first UPS system designed specifically for personal computers, and the world's most trusted premium surge suppressor the Isobar® with more than 15 million in use. Tripp Lite maintains the highest level of ready-to-ship inventory in the industry with more than 1,000 different products, including UPS systems, surge suppressors, line conditioners, power inverters, cables, connectivity products and network management accessories. Headquartered in Chicago, Illinois, Tripp Lite maintains a global presence with fully staffed offices worldwide. Additional information, including a list of Tripp Lite's sales offices and authorized reseller partners, can be found by visiting Tripp Lite's Web site: www.tripplite.com .