Tripath's Class-T TA2022 Digital Amplifier to Power Denon DSW-55XG Subwoofer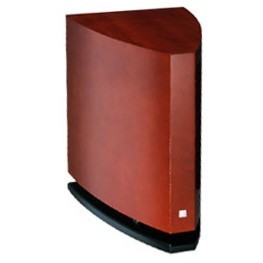 SAN JOSE, Calif. - July 23, 2004 - Tripath Technology Inc., creators of Digital Power Processing (DPP®) technology and Class-T® advanced 1-bit digital audio amplifiers, announced today that its TA2022, Class-T® audio amplifier has been selected to power Denon's latest sub-woofer, DSW-55XG. This sub-woofer is a part of Denon's latest multi-channel speaker series, 55XG. Tripath's TA2022 is also featured in Denon's previously announced DSW-7L sub-woofer.
Denon's DSW-55XG, with a TA2022 driving the 25 cm speaker, produces up to 200 watts of peak power. Space-saving and sophisticated design as well as high power and fidelity are requirements in today's sub-woofer systems, which are often used as part of a multi-channel, or home theater speaker system. Tripath's patented signal processing techniques combined with a switch mode amplification approach, generates high fidelity sound with significantly lower heat dissipation, thus providing an ideal solution for sub-woofers.
Tripath's broad line of Class-T® advanced 1-bit digital amplifiers are gaining broad market acceptance within high growth consumer electronics categories such as flat panel TVs, home entertainment systems, automotive head units, AV receivers, set-top boxes, micro component and gaming systems as well as other digital audio products. "We are pleased that Denon, a premium brand in the high quality audio market, has selected Tripath's TA2022 for their popular home theater line," said Graham Wright, Tripath's Vice President of Sales and Marketing. "We believe that Tripath's advanced 1-bit technology adds substantial value to home theater products by offering superior audio performance in a small space."
About Denon
Since its foundation in 1910, Denon, Ltd., headquartered in Tokyo, Japan, has become a world leader in the manufacture of high quality audio and audio/video equipment. Its' professional-use and consumer-use equipment and software products are recognized internationally for their originality, quality, durability and innovation. Denon is Japan's acknowledged leader in high-quality audio and audio-visual products. For more information on Denon please visit Denon's web site at http://www.denon.com .
About Tripath Technology Inc.
Based in San Jose, Calif., Tripath Technology Inc. is a fabless semiconductor company that focuses on providing highly efficient power amplification to the digital media consumer electronics and communications markets. Tripath owns the patented technology called Digital Power Processing (DPP®), which leverages modern advances in digital signal processing and power processing. Tripath's current customers include consumer electronic companies, such as Denon, Eizo, Hitachi, Onkyo, Sanyo, Sampo, Sharp, Sony, TCL and Toshiba, as well as DSL communications equipment providers, such as Alcatel, who use Tripath's power efficient line drivers for central office applications. For more information on Tripath please visit Tripath's web site at www.tripath.com .
Safe Harbor Statement
Certain statements in this release concerning Tripath's long term outlook, including comments regarding the successful introduction of Denon's sub-woofer products are forward-looking statements that involve a number of risks and uncertainties. Actual events and results could differ materially from those stated or implied from the forward looking statements.
Tripath's ability to grow depends on many factors, such as silicon wafer pricing and the availability of foundry and assembly capacity and raw materials. Also, the availability and pricing of competing products and technologies would effect sales and pricing of Tripath's products. Tripath may experience fluctuations in the manufacturing yields of its third party semiconductor foundries and other problems or delays in the fabrication, assembly, testing or delivery of its products including, but not limited to, the recently announced low cost ("Godzilla") products, which are based on a new design architecture. Tripath may not be able to specify, develop or acquire, complete, introduce, market and transition to volume production new products, including the new "Godzilla" based products, and technologies in a timely manner. Further information regarding these and other risks and uncertainties is included in Tripath's United States Securities and Exchange Commission filings, in particular, Tripath's annual report on Form 10-K and quarterly reports on Form 10-Q.