Transformers Live Action Movie from Dreamworks in 2007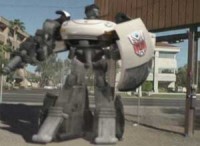 The Transformers, the shape-changing robot toys that were a craze in the 1980s, are to be made into a live-action film by studio Dreamworks. The Steven Spielberg-founded studio plans a summer of 2007 release. "Steven and everyone at DreamWorks are very excited about the prospect of expanding the world of Transformers into the live-action feature film arena. The possibilities for a thrilling action adventure are virtually endless, and a film holds the definite promise of expanding an already worldwide fan base to new audiences," Adam Goodman, DreamWorks head of production, said in a statement Friday.
Hasbro will act as consultants to the film. DreamWorks will distribute the movie in the United States and Paramount Pictures will market it internationally.
Robot Factions
The Transformers were, alongside the Cabbage Patch Dolls and the Teenage Mutant Ninja Turtles, one of the toy crazes of the 1980s. The two robot factions - one good evil - could disguise themselves as everything from trucks to fighter jets.
The toys sparked a successful cartoon series in the US.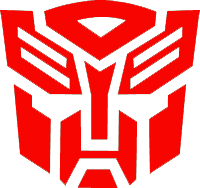 Hasbro's Involvement
On June 11, 2003 Hasbro, Inc. announced that it entered into an agreement with the highly successful producers Tom DeSanto (X-Men and X2: X-Men United) and Don Murphy (The League of Extraordinary Gentlemen) for a full length, live action movie based on Hasbro's enormously popular TRANSFORMERS brand.

"TRANSFORMERS enjoys an amazing fan base worldwide, and we believe that we can create an incredibly fast-paced, exciting movie that will be appealing to anyone who loves action films," said Don Murphy.

"TRANSFORMERS is one of those rare properties that has been embraced by a generation around the world. Like X-Men, TRANSFORMERS offers an amazing mythology with all the elements to create a successful ongoing franchise, iconic characters, global themes, and a world that has never been seen before on screen," said Tom DeSanto.

"The property has been successful in every arena it has played in throughout the world - toys, comic books, television - and we now believe it's time to take TRANSFORMERS to the next level, and into a live action event movie," continued DeSanto.

"We're thrilled to have entered into an agreement with the very talented and accomplished Don Murphy and Tom DeSanto," said Brian Goldner, President of Hasbro's U.S. toys group. "TRANSFORMERS is a natural for the big screen, and both Tom and Don have the track record and skill to bring to life a TRANSFORMERS movie that will be action-packed and flawlessly executed."

Hasbro's focus on the TRANSFORMERS brand is consistent with the Company's strategy of driving and extending its core brands through innovative toys and games as well as other forms of entertainment. TRANSFORMERS is one of the most popular boys toy brands, with sales up 64% in 2002 vs. 2001. First introduced in the U.S. market in 1984 as a toy line, the success of TRANSFORMERS continues to grow in a wide-range of entertainment categories. The hit television show TRANSFORMERS ARMADA airs on Cartoon Network seven times a week, with more than 12 million viewers. The show also airs in Europe and Australia. TRANSFORMERS ARMADA comic books, published by Dreamwave are also highly successful, with some of the most popular titles in the industry. The comic books are also translated and distributed in many markets around the world. There will be new TRANSFORMERS television programming and comic books launching in 2004.
About The Hasbro Properties Group
"The Hasbro Properties Group (HPG) continues to deliver on its mission of extending Hasbro's rich portfolio of brands beyond toys and games and into multiple forms of entertainment," said Jane Ritson-Parsons, HPG President. "Our alignment with Tom DeSanto and Don Murphy demonstrates the power of our TRANSFORMERS brand and our determination to leverage our properties aggressively and creatively."

The Hasbro Properties Group develops and extends Hasbro's core brands, such as G.I. JOE, TRANSFORMERS, MY LITTLE PONY, MONOPOLY and CANDY LAND, into a wide variety of entertainment and consumer categories. Hasbro Consumer Products Worldwide is the licensing and promotions arm of the Hasbro Properties Group.