Toshiba Gets into Network Media Game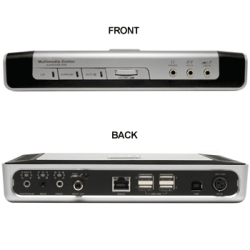 IRVINE, Calif. - Nov. 30, 2004 - Toshiba's Digital Products Division, a division of Toshiba America Information Systems, Inc. and provider of industry-leading portable computers, projectors and other mobile-related services and products, today introduced the Multimedia Center Audio/USB Hub that allows consumers to easily connect their notebook computers to their home entertainment systems.
The Multimedia Center Audio/USB Hub enables users of any notebook computer running Microsoft(TM) Windows(R) XP Home, Microsoft Windows XP Pro and the recently released Microsoft Windows XP Media Center Edition 2005 to:
Play music, movies or games in 5.1 Dolby Digital Surround Sound from home entertainment systems or external PC speakers;
Play games in full EAX(TM) Advanced HD Surround Sound for a realistic 3D audio experience;
Listen to MP3 play lists on home stereo speakers by connecting the hub to a stereo receiver via a SPDIF coaxial audio cable;
Connect joy sticks, steering wheels and game pads for an enhanced gaming experience via any of four USB ports, as well as connect other devices such as a printer or scanner;
Connect to the Internet via an integrated Ethernet port to download music or digital video, or just send a friendly e-mail.
"The notebook computer is being transformed from primarily a productivity tool into a personal entertainment hub where users can manage and enjoy multimedia content," said Taro Hiyama, vice president of marketing, Toshiba Digital Products Division. "The Multimedia Center Audio/USB Hub offers consumers a simple and inexpensive way to enhance their multimedia experience on their notebook computers."
Designed in a compact form smaller than a VHS tape, the Multimedia Center Audio/USB Hub is priced at $129.99 and is currently available from ToshibaDirect at www.toshibadirect.com . The product will be available from retailers nationwide in Q1 2005.
About Toshiba America Information Systems, Inc. (TAIS)
Headquartered in Irvine, Calif., TAIS is comprised of three divisions: Digital Products, Digital Solutions and Storage Device. Together, the three divisions provide mobile products and solutions, Internet access plans, communications, storage and imaging products and services. Products include industry-leading portable computers, projectors, DVD/CD recordable products and hard disk drives for computers, telephony products, digital imaging systems, wireless solutions and services.
TAIS provides sales, marketing and services for its wide range of information products in the United States and Latin America. TAIS is an independently operated company owned by Toshiba America, Inc., a subsidiary of Toshiba Corporation, a world leader in high technology and integrated manufacturing of electrical and electronic components, products and systems. Toshiba has global sales of over $52 billion and more than 300 subsidiaries and affiliates worldwide. For more information, visit the company's Web site at www.toshiba.com .