Toshiba Announces et20 HQV Projector with DVD Player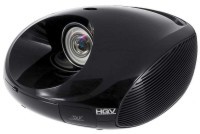 HANNOVER, Germany - March 9, 2006 - Toshiba has announced the et20 projector with integrated DVD player, 5.1-channel audio system, and an exclusive Super Close Projection lens that will produce a 2-meter (diagonal) image from 1-meter and a 1.5-meter image from only 70 centimeters away. The projector will also feature the Realta HQV(R) video processor for delivering what's acknowledged as the industry's best image quality. The projector will have a retail price of $1900 and will be available in April 2006.
"Toshiba's et20 will use the no-compromise Realta HQV processor, which makes any standard DVD video approach the image quality of HD video. Exclusive HQV features such as pixel-by-pixel noise reduction and advanced multi-cadence detection ensure that any DVD will deliver outstanding image quality," said Gerd Holl, General Manager, Toshiba's Projection & Display Technology Group.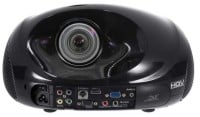 Realta "HQV Powered by Teranex" encompasses true 10-bit video processing, full four-field motion- adaptive video deinterlacing for both standard-definition and high-definition signals, pixel-by-pixel temporal-recursive noise reduction, automatic film-mode detection, and pixel-based detail enhancement. It also uses the same video processing power--one trillion operations per second--as the $60,000 Teranex Xantus box.
"Toshiba is driving a new paradigm shift by creating this new category of projector. With its ability to produce a large image from such a short distance, Realta HQV video processing and exceptional 'Anyplace' 2D keystone, and its integrated 5.1 surround sound system, this projector is sure to be a tremendous success for Toshiba, and it will set a very high bar for the rest of the industry," said Hamid Farzaneh, Executive VP of Sales and Business Development, Silicon Optix.
About Toshiba Projection & Display Technology
The Projection & Display Technology (PDT) division markets a comprehensive portfolio of data and video projectors plus a selection of LCD flat panels and plasma screens. Its offerings are intended for a broad spectrum of target groups. In the professional projectors segment, Toshiba distinguishes between the mobile class of projectors (lightweight models of up to 3 kg) and the performance class (primarily for conference applications, but also for permanent installation). PDT also focuses strongly on the forward-looking home cinema projector segment. As a systems provider, the Projection & Display Technology division is committed to developing complementary solutions for mobile presentation and wireless LAN applications. PDT is responsible for distribution in over 50 countries in Europe, the Middle East and Africa. Toshiba employs 166,000 people worldwide and around 4200 people in Europe. For more information, visit www.toshiba-europe.com/projectors
About Silicon Optix
Silicon Optix Inc., a privately held fabless semiconductor company, is the leading supplier of advanced programmable videoimage digital processing integrated circuits (ICs). The company's products are driving three unique technologies into a broad range of markets: a patented, powerful, array-based programmable DSP for digital video that can perform one trillion operations/second, enabling real-time pixel-by-pixel processing of HDTV; industry-leading and Hollywood-proven software algorithms from Teranex; and proprietary eWARP(TM) geometry processing. Silicon Optix's mission is to leverage these innovative technologies into ICs that will enable the next generation of digital video/image capture, transmission, distribution, editing, storage, and display solutions. Silicon Optix is headquartered in San Jose, California, with operations in Hanover, Germany; Orlando, Florida; Taipei, Taiwan; Shanghai, China; and Toronto, Canada. For more information, visit www.siliconoptix.com .