Torus Power WM 60 BAL AVR Power Conditioner Preview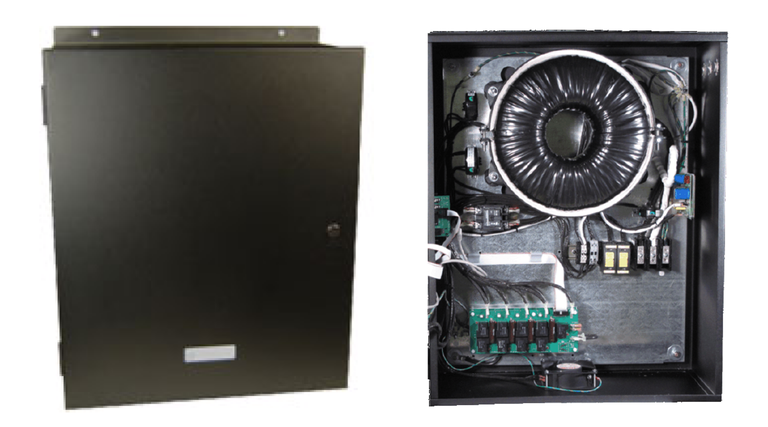 WM 60 BAL AVR 60 amp conditioner
Torus Power will be introducing a new product at CES, the WM 60 BAL AVR. This is a 60-amp wall mount power conditioner designed for the custom installation market, to provide complete isolation, surge protection, automatic voltage regulation (AVR), and improved audio/video performance for the entire system. The WM 60 BAL AVR provides total isolation from the power line by using toroidal isolation transformers. The isolation transformer also provides low source impedance for instantaneous high current capability, clean power with its patented transformer technology and full protection against surges and spikes without contaminating the ground or the use of sacrificial MOVs. The WM 60 BAL AVR also offers the added benefit of automatic voltage regulation, keeping equipment operating within an optimal voltage range. All AVR units have Ethernet connectivity for easy monitoring and control. Retail price for the WM 60 BAL AVR is $6,900. Other models in the Torus Power WM series are rated up to 100 amps.
Torus Power Adds Ground One Power Conditioning Products
The Ground One line of custom power conditioning products will be added to the Torus Power Custom Installation range, and marketed through Torus Power Dealers, Installers and Sales Representatives as of January 2011. Developed in California, Ground One products are recognized as the finest available for challenging high-end installations where compromise is not an option.
At the 2011 CES Show, Torus Power will be exhibiting the Ground One's "All-in-One" Solution (retail price $12,300) consisting of a 12.5kVA custom panel featuring triple-screened toroidal isolation transformers. More details and pricing on the full range of Ground One products will be available shortly. In the interim you can visit the website at www.ground1.com. The full Torus Power line of audio-video power conditioners will be on display at the Consumer Electronics Show in the Venetian Hotel.
Sales Representatives are required for major territories in North America for retail and custom installation markets. Dealers and custom installers are invited to contact Torus Power directly. Distributors for international markets are also required. For more information, please visit www.ground1.com.
About Torus Power
Torus Power is a complete line of audio video power conditioners priced from $995 to $8550, and with power ratings from 2.5Amps all the way to 100Amps. Every Torus Power model features toroidal isolation transformers manufactured by Plitron Manufacturing Inc, providing low source impedance for high instantaneous current capability, and clean power using patented technology where the transformer acts as low pass filter without the use of current limiting circuitry. All models also feature advanced series mode surge suppression for complete protection against spikes and surges. Torus Power's AVR technology adds automatic voltage regulation to all AVR models, as well as Ethernet connectivity. Torus Power is available in 19" rack mount cabinets, 17" consumer style faceplates, as well as wall mount cabinets. In addition to the 120V plug-and-play models, a custom installation series is available which offers balanced inputs of 2 x 120V or 208V. International versions are also available.