Three Priests Signed by Sony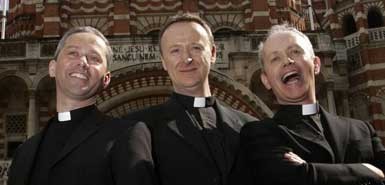 The Three Priests
Who says three singing Roman Catholic priests wouldn't make for compelling music fare? Well... don't answer that. Father Eugene O'Hagen, 48, his brother Martin, 45, and their old school friend David Delargy, 44 signed a $2 million contract yesterday with Sony BMG after a demo CD was submitted to a rep by an Irish pop musician who asked them to make a demonstration recording. Each of the priests hold a parish in Northern Ireland and apparently the contract was signed by the steps of Westminster Cathedral in London.
What's neat about this is that the singing trio, known as 'The Priests', said that they would give money they made from the music to charity.That's pretty cool, especially given that they would likely produce just as much music and do just as many performances with or without Sony's backing. That's like free money for the poor, or at least some really decent weapons for the Irish Republican Army (OK, that was a JOKE, people - back off!)

Written into the contract are special exemptions which allow the priests to perform their parish duties. The story ran in the Times Online and had some points I found very interesting:

The three realized their musical prowess at St MacNissi's College, Co Antrim, where they were nicknamed Holy Holy Holy because of their determination to enter the priesthood.
Fr Martin, from the parish of Cush-endun explained the reason behind the clause that allowed the priests to carry out their parish duties. He said: "Our work means a great deal to us. We are priests first and foremost. Our work will be at the heart of our plans."
Fr David, from the parish of Hannahstown, added: "Singing is very much what we do. This is bringing it to a wider audience. We are singing sacred music, continuing what we have always been doing."
It sounds like the Three Priests have their passions, their ministry and their professions all lined up in a row. This is something I found quite refreshing and encouraging.

As for musical tastes, they couldn't be more different... Fr Eugene notes that he likesthe quartet Il Divo while Fr David said his first ever purchase was Blondie - Parallel Lines. As for Fr Martin - he said that he enjoys a bit of jazz and very relaxing music.
From the Times Online: Nick Raphael, managing director of Epic Records, part of Sony BMG, negotiated the signing. He said: "Their voices are incredible. I said, 'I think we've found three pop stars'.
The priests' forthcoming record, which is as yet unnamed, is planned for release around November.
smurphy522 posts on April 24, 2008 09:17
Wow the breaking news and reviews must really be lacking today. I would have expected to see something about Obama or Clinton before this.
Post Reply