Theta Digital Introduces Powerful Casablanca III Music and Cinema Controller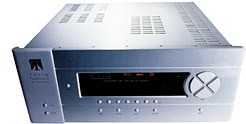 Theta Digital, long acclaimed as America's most advanced manufacturer of high-end digital audio and video products, introduces the Casablanca III Music and Cinema Controller.
Casablanca III is the latest version of Theta's highly innovative, highly flexible series of surround processors. The new model offers significant improvements in versatility, speed, and customization. Like earlier Casablanca models, it eliminates the need for owners to choose between audiophile music reproduction and video-based surround sound.
Among the Casablanca III's innovations is an all-new operating system - CB OS2 - that enhances operating functions with lightning-fast response times, and support for digital and analog SACD and DVD-Audio options not possible on the earlier Casablanca models. The new operating system, entirely redesigned from the ground up, also provides a foundation for many new features introduced in the Casablanca III, and under development for future release.
Central to Casablanca III is Theta's classic Open Architecture. As in earlier Casablanca models, the processor's motherboard provides for all signal routing, while various daughter boards carry function-specific circuitry.
This design philosophy, which Theta pioneered in the original Casablanca, allows installers to configure and upgrade the Casablanca to meet the personal needs of each owner. The upgrade will also allow the Theta design team to more quickly implement future software upgrades and enhancements.
In the Casablanca III, the open-architecture component takes customization to a new level, providing literally hundreds of crossover choices (including phase-perfect and Linkwitz-Riley) that facilitate the Casablanca's exquisite ability to be tailored to specific environments and speaker set-ups.
While the controller's standard and optional features are too numerous to fully detail in this space, several offer particular value. For example, Casablanca III features Central Power Redistribution (CPR), which corrects for theater sound mixes when played back in the home, as well as expanded compatibility with popular surround sound processes. Dolby Pro Logic II® and the new DTS® Extended Surround (DTS-ES), in both Matrix and Discrete 6.1. versions, are standard.
Also new, and available as an option, is Theta's Circle Surround II Multichannel Audio Decoding process. Circle Surround II delivers up to a 6.1-channel Home Theater experience from many formats, including mono, stereo, Dolby Surround®, down-mixed Dolby Digital® and DTS. It accurately decodes surround material with true center-channel dialog isolation and outstanding separation among the rear channels. Casablanca III uses Circle Surround II-based code to derive Theta's Center Surround channel, enhancing this standard feature.
Casablanca III also features Theta's proprietary Jitter Jail circuitry, which virtually eliminates jitter. The circuitry stores all digital audio in a buffer and reclocks it to the DACs using a high-quality crystal oscillator. The resulting rock-stable digital audio suffers none of the problems associated with lesser systems.
Casablanca III will be equipped to receive six-channel analog signals from DVD-A and SACD via Theta's Six Shooter Multi-Channel Analog Throughput, an analog preamp controlled by the surround processor. With volume controls made from individual high-quality metal-film resisters, and both differential balanced and single-ended connections, the Six Shooter provides seamless volume control from either the Casablanca III or, in the future, Theta's Casa Nova Music and Cinema Controller.
CRYSTAL set-up software makes setting up Casablanca III very user friendly. CRYSTAL is a PC-based program that offers all set-up features in convenient pull-down menus, and allows users to type in names for jacks and input buttons. The standard RS-232 serial port on the Casablanca III can be connected to the PC running the program.
Clad in rugged black or, as an option, in Theta's classic silver chassis, the Casablanca III is expected to be available from authorized Theta dealers later this quarter at suggested pricing shortly to be announced.
For more information on the new Theta Digital Casablanca III, visit the Theta Digital websit e .