The Skinny on PlayStation 3 Slim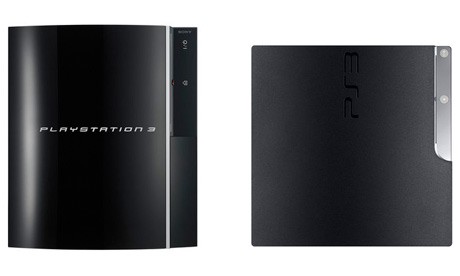 We can understand why cell phones are so anorexic. Mobile technology should slip into your pocket. But now Sony has put its PS3 game console through a rigorous weight-loss program and it can't be healthy. Gone is the George Forman Grill look in favor of a PS3 that is so slim it looks like the DVD player someone got trampled for at Wal-Mart. Setting up Sony's new skinny model will be like going on a date with Lindsey Lohan; it can't stand up vertically on its own without falling over. Let's examine the effects of PS3's recent weight-loss. 
When it goes on sale on September first, Sony's new PS3 Slim will be 33 percent smaller, 36 percent lighter and will consume 34 percent less energy than the previous PS3. The new model Sony Computer Entertainment has dubbed Model CECH-2000 will retail at $299. That's the $100 price drop Sony hopes will lure fence sitters into the PlayStation family. 
Sony says it's packed the same hardware as regular PS3 into the Slim form factor - here are a few differences. 
There should be no difference in game-play or processing horsepower under the Slim hood. That is unless you're looking for the old Emotion Chip that was lost to newer PS3 models. Emotion was the alternate processor that made the original PS3 compatible with PS2 games. This feature has been gone for some time and won't be coming back for Slim. 
Also gone are the flash memory card readers that made PS3 unique. There will be no ports for Compact Flash, Memory Stick or SD memory. PS3 Slim will let you add digital media via USB or burned disc or network. 
Slim will have the same media support as the previous version of PS3. It'll remain one of the better Blu-ray players on the market and will playback DVD, CD and stream from PC or DLNA media servers. Audioholics may still be lamenting the loss of the original PS3's SACD playback. SACD was a great addition when PS3 was released in 2006 but that feature has already disappeared in later PS3 models. 
The 80GB hard drive on the current entry level model has been upgraded to 120GB. You can still expand the unit's storage capacity with your own 2.5-inch laptop hard drive: Expect DIY videos to appear on YouTube anytime with a full tutorial. 
Miscellaneous physical differences are also apparent. The new model might be smaller but it's almost completely square and flatter than the original PS3 form factor. This means PS3 Slim completely fails at looking like a George Foreman Grill. Many feel it cheapens the look of the new console but that's a matter of personal opinion. The buttons on the front, including power and eject will actually be buttons now instead of those touch-sensitive keys. 
One overlooked feature that many PS3 users have been clamoring for is IR support. Hang on to your Logitech Harmony PS3 Adapter if you want to overcome Sony's Bluetooth fetish. You're going to need it if you want to turn PS3 remote control commands over to any IR universal remote control. 

Should I rush out and get the PS3 Slim on September first? 
This is probably the one to get if you've been sitting on the fence and don't want to try and find one of the original 60GB models off Ebay: The original PS3 has the multi-memory card reader, SACD playback and PS2 compatibility. It seems that more tweaks Sony puts into its game console the more features it loses. If you're interested in those little extras, the PS3's sudden weight loss hasn't been kind to the console. 
If you're okay with USB for removable storage and have moved on from high resolution audio formats to high definition video formats, PS3 Slim is a winner. In my living-room I already have the older, full-figured PlayStation 3 game console that has been serving me well, so I'm sticking with it.
Recent Forum Posts:
yettitheman posts on September 22, 2009 01:20
Patrick_Wolf, post: 615102
As one would guess, the PS3 Slim has a new cooling system. Namely, a big fan.


The Slim with it's top cover off.

The NEW PS3: It's a Blu-Ray Drive with really big fan
Seth=L posts on September 22, 2009 00:55
In home media formats will always have a one up on streaming, and on DL's as well (those take time, especially for large file sizes). When streaming get's to the level of PQ and SQ of Blu-ray everyone will be on to virtual reality in 3D.
Seth=L posts on September 22, 2009 00:53
It's a variable speed controlled fan. Because of it's size and design it's operation can be quiet will maintaining stable tempurature inside the PS3. The Xbox 360, especially older models, are louder because the use smaller fans that usually run at faster speeds. The PS3's fan can get going pretty good if it needs to cool the unit down. My 40gb PS3 can sound like a server tower when I do the high speed fan test.
j_garcia posts on September 22, 2009 00:50
HD streaming will obsolete it when? In 7 years? Not anytime soon.
ohio posts on September 22, 2009 00:26
At $300, it's a great deal on a small, good looking, capable BD player with a decent sized HDD.

For me, in a small urban apartment the smaller size and more shelf-friendly shape are a big deal. I've held off on BD because HD streaming will obsolete it, but this may tip the scales for me.
Post Reply