TERK to Distribute Skullcandy Products in US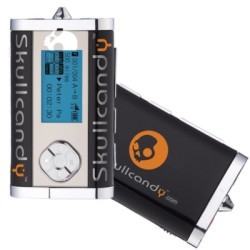 Commack, NY, December 3, 2004 - TERK Technologies Corp., a leader in antenna technology for TV, satellite, radio and mobile communications applications, today announced a distribution agreement with Skullcandy, a cutting-edge company offering forward-thinking portable technology products and urban apparel. Founded in 1995, Skullcandy has developed a robust consumer base in the snow-sports industry.
Under the terms of the distribution agreement, TERK will utilize its strong, already established distribution channels to bring Skullcandy portable technology products to a wider, mass-market consumer segment in the U.S. Skullcandy products distributed by TERK will continue to be marketed under the Skullcandy brand name.
Based in Park City, Utah, Skullcandy is among the most recognizable brands in the snow-sports industry. The company offers a diverse lineup of innovative products including a device that connects a cell phone and a portable audio player to a set of headphones, enabling consumers to enjoy music without ever missing a phone call. Other Skullcandy products include portable audio players and powered headphones designed for extended bass response. By combining progressive product concepts with hip, urban styling, Skullcandy has built a uniquely positioned product line as well as a brand that resonates powerfully with the company's traditional base of snow-sports enthusiasts. Skullcandy is poised for even greater success with the extended distribution that TERK will provide.
Randall Rosenbaum, Product Manager, TERK Technologies, pointed out: "We are extremely excited about our partnership with Skullcandy, and the mutual benefits it will provide both companies. Skullcandy offers an innovative, distinctive product lineup that appeals to a wide range of design-conscious consumers, and TERK is ideally positioned to bring Skullcandy to a broader range of consumers than ever before." Rosenbaum concluded, "As a company which believes that great design is a fundamental element of great products, TERK is pleased to support Skullcandy in its efforts to reach a wider target audience."
Skullcandy products that will be distributed by TERK include the LINK system, Blunt portable audio players and Skullcrushers headphones. The LINK system enables an individual to wear a single set of headphones to listen to music and use a cell phone - at the same time. With the hands-free LINK system, consumers can listen to all the music they want without ever missing a call. Available with 128, 256 or 512MB of on-board memory, Blunt portable audio players combine forward, lightweight styling with leading features, such as MP3 and FM radio playback. Powered by a single AA battery, Skullcrushers headphones incorporate active bass circuitry to deliver the palpable bass that's missing from standard headphone designs. It's like having a subwoofer built into the headphones. Skullcandy products challenge the boundaries of portable technology, and will provide an extended consumer base with new and exciting entertainment options.
About TERK
TERK Technologies is a leader in antenna technology and signal management solutions. TERK offers a broad range of products as a leader in antenna technology for TV, satellite, radio, and mobile entertainment and communications applications, and is dedicated to providing state-of-the-art solutions for consumers as well as innovative marketing and merchandising solutions for its retail partners.
TERK's diverse product range includes indoor and outdoor HDTV, analog TV, satellite radio and analog radio antennas, DIRECTV satellite dishes, satellite/cable installation hardware and audio/video accessories. TERK also offers its T2 line of high-performance signal management products for the custom integrator market, and its Leapfrog wireless multi-room audio/video distribution and control systems. TERK is also the exclusive distributor of the XM Commander Universal Satellite Radio receiver for in-car reception of XM Satellite Radio.
Synonymous with style and quality, TERK's innovative and advanced technology engineering has earned the company numerous patents and industry awards.
About Skullcandy
Skullcandy products are developed, manufactured, and distributed by Device Development Corporation (DDC) of Park City, Utah. DDC has been introducing innovative new products, primarily in the snow-sports industry, since 1995.