Terk Ships New HDTVs Urban Antenna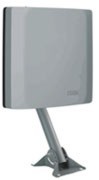 Commack, NY, November 5, 2004 - TERK Technologies Corp., a leader in antenna technology for TV, satellite, radio and mobile communications applications, is now shipping its new HDTVs, a slim profile, high-performance outdoor HDTV antenna ideally suited for installation in urban areas where line-of-sight to the transmission tower is often blocked. The HDTVs is specifically designed to capture reflected off-air HDTV and DTV broadcast signals that naturally bounce off buildings in urban areas, to provide high-performance reception in a wide variety of locations. Measuring just 16" square by 4" deep, the HDTVs can be inconspicuously installed virtually anywhere outdoors and installation where other types of antennas cannot be employed.
Because the HDTVs can effectively receive UHF signals from a distance of more than 50 miles from the broadcast tower, it is also well suited for installation in suburban locations. The HDTVs provides reception of all local HDTV broadcasts, with an operating bandwidth covering both the UHF (channels 2 - 13) and VHF (channels 14 - 69) frequency ranges. Its versatile installation options enable the antenna to be mounted virtually anywhere outdoors.
Until now, if a consumer lived in a location without a clear line of sight to the broadcast tower, reception of off-air HDTV broadcasts would've been virtually impossible. The HDTVs provides an innovative solution - it can simply be aimed at a building off which the signal is being reflected, to capture the signal and deliver clear reception.
Randall Rosenbaum, Product Manager, TERK Technologies, pointed out: "With its remarkable capability of delivering clear HDTV reception from reflected broadcast signals, the HDTVs represents a significant advancement in HDTV signal management. Instead of being defeated by tall buildings and other obstacles in urban areas, the HDTVs actually takes advantage of the signal reflectivity that occurs in these environments. As a result, the HDTVs allows more viewers to enjoy all the benefits of local off-air HDTV and DTV programming than ever before."
To achieve its groundbreaking performance, the HDTVs incorporates a host of leading-edge reception technologies. It provides an extremely high 20-to-1 front-to-back ratio, which enables it to efficiently capture signals received by its forward-facing, high-gain antenna element while rejecting unwanted signals from the rear - a design that optimizes reception of reflected broadcast signals. To further enhance performance, the directional HDTVs has a 68-degree beam width, along with a VSWR of 1 to 1.3 that minimizes the power reflected from the antenna and yields maximum signal transfer efficiency. The antenna can be aimed to eliminate co-channel interference, which can degrade the performance of conventional antenna designs.
The HDTVs provides versatile mounting flexibility to accommodate virtually any installation requirement. It is supplied with a mast mounting bracket and base that enable mounting in a wide variety of locations, such as on an exterior wall, roof, railing, or in an attic. The mounting bracket enables the HDTVs to be adjusted for azimuth, elevation angle and skew, enabling it to be precisely oriented for the best-possible reception. The mast mounting bracket and base provide consumers with a number of popular mounting options, eliminating the need for retailers to stock a large assortment of additional masts and mounting kits. In addition, the available SDAM Satellite Dish Antenna Mount enables the HDTVs to be mounted on an existing satellite dish. Because of Winegard's long-standing expertise in high-performance antenna solutions, they have designed and will be manufacturing the HDTVs for TERK. Since 1954, Winegard has been a leader in antenna design, technology and manufacturing. "Winegard remains committed to continuous improvement in the quality, cost and delivery of its products and services to effectively meet our customer's needs. Our partnership with TERK exemplifies this commitment. We are pleased to be working with TERK in expanding our distribution into new markets," stated Bob Howell, Distribution Systems/Off-Air Antenna Business Group at Winegard.
The TERK HDTVs is currently available at a suggested retail price of $149.95. The optional SDAM Satellite Dish Antenna Mount will also be available fall 2004 at a suggested retail price of $24.95.
About TERK
TERK Technologies is a leader in antenna technology and signal management solutions. TERK offers a broad range of products as a leader in antenna technology for TV, satellite, radio, and mobile entertainment and communications applications, and is dedicated to providing state-of-the-art solutions for consumers as well as innovative marketing and merchandising solutions for its retail partners.
TERK's diverse product range includes indoor and outdoor HDTV, analog TV, satellite radio and analog radio antennas, DIRECTV satellite dishes, satellite/cable installation hardware and audio/video accessories. TERK also offers its T2 line of high-performance signal management products for the custom integrator market, and its Leapfrog wireless multi-room audio/video distribution and control systems. TERK is also the exclusive distributor of the XM Commander Universal Satellite Radio receiver for in-car reception of XM Satellite Radio.
Synonymous with style and quality, TERK's innovative and advanced technology engineering has earned the company numerous patents and industry awards.