Terk Introduces Compact Outdoor HDTV Antenna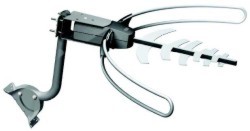 Commack, NY - TERK Technologies Corp., a leader in antenna technology for TV, satellite, radio and mobile communications applications, announced the introduction of its HDTVo, a highly compact amplified outdoor antenna that combines outstanding HDTV reception performance with stylish, unobtrusive design and exceptional installation flexibility in a wide variety of outdoor applications.
The latest addition to TERK's acclaimed HDTV antenna lineup, the HDTVo can be installed virtually anywhere outdoors to receive both UHF and VHF signals (channels 2 - 69), enabling viewers to receive all local HDTV broadcasts in their area with the best-possible, full HDTV resolution. To achieve its exceptional performance, the HDTVo utilizes a purpose-designed, highly directional log periodic antenna array in conjunction with a pair of curved elements that capture and focus HDTV signals toward the array. This unique design also provides a high degree of interference rejection. In addition, the HDTVo employs a high-gain, ultra-low-noise amplifier that increases the strength of weaker signals and optimizes signal gain for maximum HDTV reception.
Randall Rosenbaum, Product Manager, TERK Technologies, pointed out: "The HDTVo is the perfect solution for homeowners in urban and suburban locations who are seeking the same reception quality a larger outdoor antenna can deliver, but without the bulky appearance, or who don't have the space to install a larger outdoor antenna. It's the ideal antenna for consumers who want to complement their satellite or cable installations with added HDTV reception capability."
In addition to superlative performance, the HDTVo offers highly versatile installation flexibility. It unfolds in seconds and is supplied with a multi-mount mini-mast and base that enables the antenna to be installed on a roof or wall, on a balcony or in an attic. It can also be mounted flush against a wall without using its mini-mast to further conserve space, as well as on a full size mast and satellite dish arm.
The HDTVo's sleek, elegant design enables it to be inconspicuously mounted in the widest variety of locations, and its compact size and light weight make it easy to carry up a ladder and handle while installing it on a roof. The HDTVo's elements are ruggedly constructed from aluminum, and the housing is weatherproofed to provide reliable long-term service.
The TERK HDTVo is now shipping at a suggested retail price of $119.95.
The HDTVo: Exceptional Outdoor Antenna Performance in a Sleek, Compact Design
Receives UHF and VHF HDTV broadcasts in full HDTV resolution
High-gain amplifier provides maximum reception of stations from farther distances
Provides access to no-cost HD programming
Excellent for urban and suburban environments where space is at a premium and installation of a larger outdoor antenna isn't possible
Compact, lightweight, aesthetically pleasing design
Included mini-mast and base
Easy to assemble and install
Wide variety of mounting options
Advanced antenna design has a more attractive appearance than most outdoor antennas
Competitively priced
About TERK
TERK Technologies is a leader in antenna technology and signal management solutions. TERK offers a broad range of products as a leader in antenna technology for TV, satellite, radio, and mobile entertainment and communications applications, and is dedicated to providing state-of-the-art solutions for consumers as well as innovative marketing and merchandising solutions for its retail partners.
TERK's diverse product range includes indoor and outdoor HDTV, analog TV, satellite radio and analog radio antennas, DIRECTV satellite dishes, satellite/cable installation hardware and audio/video accessories. TERK also offers its T2 line of high-performance signal management products for the custom integrator market, and its Leapfrog wireless multi-room audio/video distribution and control systems. TERK is also the exclusive distributor of the XM Commander Universal Satellite Radio receiver for in-car reception of XM Satellite Radio.
Synonymous with style and quality, TERK's innovative and advanced technology engineering has earned the company numerous patents and industry awards.