Target Gets the iPad, But Not Online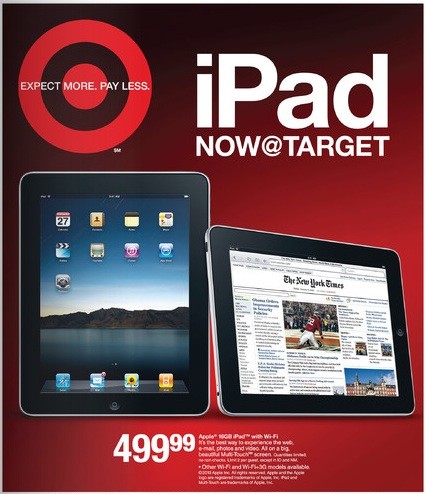 iPad Now Available at Target Stores
Target has finally begun selling all six models of Apple's iPad, and is pimping the new product on the cover of its weekly advertising circular (we got one in our Sunday paper). It's also on the front page of their online store/website. Since Target has over 1700 stores in the U.S., the retail presence for Apple's new laptop-killer device has just skyrocketed. It will be interesting to see if this gives the company a significant bump, or if the Target crowd isn't going to be too quick to shell out the $499 required for the entry-level Wi-Fi only model. For now, the iPad is only available in physical stores (you can't buy it online at Target.com). This is odd, since you can buy it online at Amazon.com (so it doesn't seem to be an Apple exclusive online product).
Target has 5 models available, according to the website:
64GB Wi-Fi ($699.99)

32GB Wi-Fi ($599.99)

16GB Wi-Fi + 3G ($629.99)

64GB Wi-Fi + 3G ($829.99)

16GB Wi-Fi ($499.99)

Source: MacRumors.com
majorloser posts on October 04, 2010 11:35
The apps are nice, but if they add USB support for peripheral devices, I'll be sold.
jeffsg4mac posts on October 04, 2010 11:30
Apperantly the ipad is not the flop as some predicted it would be. Apps, it all about apps. Apps or lack of is the main reason Atari never survived the home gaming market once Nintendo came on the scene. I still don't have a use for one but others seem to love it.
majorloser posts on October 04, 2010 11:30
Walmart would want a significant discount on the product before they'd sell it.

But since the iPad is now available through other sources, it just makes me curious if the next generation Maxi-iPad will be an Apple exclusive.
Seth=L posts on October 04, 2010 11:09
I would have expected to see this at Wal-Mart before Target for the simple fact that Wal-Mart has been bolstering their electronic's department to become more competitive with Best Buy and comparable big box stores.
Post Reply