Syntax Groups Reveals Olevia 20" LCD TV for under $700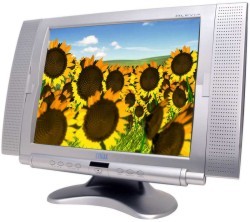 City of Industry, CA - July 12, 2004 - Responding to a growing demand from consumers who desire a truly affordable digital television experience without sacrificing product quality or features, Syntax Groups Corporation*, an emerging growth manufacturer of digital convergence consumer electronics products, today announced the Olevia* 20-inch LCD-TV. Currently available for $699 (MSRP), the Olevia LT20HV extends the range of Syntax Groups' LCD TV family of digital entertainment products bringing unique functionality, high quality images, optimum affordability and superb customer support.
Like Syntax Groups' recently launched value-priced 27-inch and 30-inch Olevia-branded LCD TVs, the new 20-inch model features a VGA input for easy connection to a personal computer. Consumers have the flexibility of using the Olevia LT20HV as a single product or a cost-effective solution for dual purposes-watching TV or as a quality substitute for a PC monitor.
"The 20-inch Olevia is the ideal addition to any room with space limitations, such as a home office, kitchen, bedroom, student dorm, or children's play area," said James Li, Chief Executive Officer of Syntax Groups Corporation. "Because of its size and attractive price, it is also the perfect 'third TV' for the home."
Featuring a high quality, ultra-thin flat panel LCD screen, the Olevia 20-inch LCD TV delivers crystal clear, vivid entertainment images with 800 x 600 native resolution, 500:1 contrast ratio, brightness of 500cd/m2, a 160/120 viewing angle, and stereo speakers. Packaged in an attractive silver bezel, the Olevia 20-inch space saving TV is 24.5" W x 18" H x 3.5" D (without stand) and weighs only 18.7 lbs. making it easily wall mountable using an optional VESA-standard mounting kit.
Syntax Previews Upcoming 32-inch Olevia LCD TV
Coming this Fall, Syntax Groups plans to further extend its LCD TV offerings with the launch of a 32-inch Olevia model. This new member of the Syntax Olevia digital TV family will feature 1366 x 768 resolution, 800:1 contrast ratio, 550cd/m2 brightness and a fast 16ms response time. Additionally, Syntax will introduce an Olevia 37-inch LCD-TV and a 50-inch LCOS-TV this year.
Syntax Groups maintains a competitive advantage over large branded competitors due to its lower prices, lower cost infrastructure, and quick response to market dynamics that cements the company's position in the LCD TV market. All Syntax Groups LCD TVs are manufactured through its joint venture company in Taiwan, DigiMedia Technology Company, together with Taiwan Kolin Company Ltd., ( www.kolin.com.tw ; TSE 1606.TW), a leading manufacturer of consumer electronics [HDTVs] and home appliances, and Prokia Technology Company Ltd., www.prokia.com.tw , a world-renowned designer and manufacturer of LCD backlight modules and optical projector engines. DigiMedia provides Syntax with a powerful vertically integrated end-to-end supply chain of all essential components including a strategic relationship with Chi Mei Optoelectronics, www.cmo.com.tw ; TSE 3009.TW), the world's leading TFT-LCD panel manufacturer, for obtaining the high-grade LCD panels used in Syntax Groups' Olevia-branded LCD-TVs.
About Syntax Groups
Syntax Groups Corporation is a marketing-driven manufacturer of consumer electronics and personal computer products including LCD and LCOS TVs, high definition DVD players, DVD+/- RW players, wireless networking accessories and notebook computers. With its headquarters in Southern California, design centers in Taiwan, and factories in Taiwan and China, Syntax Groups provides innovative, high-quality, competitively-priced digital entertainment products that position the company to become a leading brand in the Tier Two converged consumer electronics market segment. The company's Website is www.syntaxgroups.com .
Syntax Groups Corporation and Olevia are trademarks of Syntax Groups Corporation