Syntax 32 and 37-inch LCD TVs and 50-inch LCOS TV Added to Lineup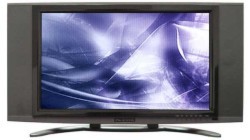 San Francisco, CA - Syntax Groups Corporation, manufacturer of the high-quality, low-priced Olevia™ family of widescreen HDTV-ready LCD TVs, today announced at the iSuppli FID2004 conference, its newest Super-IPS-based Olevia 32-inch and 37-inch LCD TVs, plus immediate holiday availability of the Olevia 50-inch LCOS projection TV.
Expanding on the Syntax Olevia's breakthrough value to performance ratio, the HDTV-ready 32-inch (LT32HV) and 37-inch (LT37HV) LCD TVs feature the newly-designed, stunningly-attractive black and charcoal bezel to frame the space-efficient LCD TVs' high-quality, flat panel displays, optimized to provide sharp, vivid digital entertainment images from analog and digital TV signals, DVDs, VHS and video games.
"Since introducing our first Olevia LCD TVs earlier this year, we have received extremely robust acceptance from consumers and the retail channel because of the unique value proposition that Syntax brings to the digital living market," said James Li, Chief Executive Officer of Syntax Groups. "Our new Olevia LCD and LCOS TVs are designed with a rich balance of leading specifications, competitively low prices and a solid after-sale warranty to serve the requirements of consumers who prefer larger format TVs."
New Premium-Level Specifications
The new Olevia 32-inch and 37-inch TVs feature Super-IPS (Super-In-Plane-Switching) technology that provides the best display performance for LCD TVs with higher color saturation, the widest viewing angles, sharpest images, best response times and the minimum amount of color shift and distortion from any angle. Capitalizing on the high-end benefits of Super-IPS, both Olevia models have 176 degrees expanded viewing angles that provide excellent picture quality from any room location, exceptional 1200:1 high contrast ratio, high resolution of 1366 x 768 (WXGA), 8ms response times to display rapidly-moving images with smooth transitions that eliminate ghosting effects, 800 cdm2 high brightness, 16:9 cinema-style widescreen aspect ratio with automatic progressive scan, 3D comb filter and 3:2 pull down.
For convenient viewing from multiple sources, the Olevia 32-inch and 37-inch feature dual built-in NTSC TV tuners for displaying split screens and Picture-in-Picture (PIP) capability. Several video and audio inputs are included such as HDTV component inputs (YPbPr and YcbCr 480i, 480p, 720p, 1080i), VGA, DVI HDCP, S-video, and RCA composite and audio. When connected to a PC using the VGA input, the Olevia LCD TVs function as a high quality multimedia display highlighting their ability to simultaneously watch TV or DVD movies on half of a split screen while surfing the Internet and accessing email or PC documents on the other half. Two 15 watts (LT32HV) or 20 watts (LT37HV) speakers deliver high quality surround sound. The Olevia LCD TVs' thin profiles of 4.6-inch (LT32HV) and 5.6-inch (LT37HV) make them easy to attach to a wall using an optional VESA-standard mounting kit.
"The LCD-TV market has huge potential that can be realized only if manufacturers offer desirable products at affordable prices," said Riddhi Pattel, senior analyst covering televisions at the market research firm iSuppli Corp., El Segundo, Calif. Due to declining prices, North American LCD-TV sales will rise by a factor of three and a half in 2004, growing to 3.1 million units, up from 881,000 units in 2003. TV sets with screen sizes in the 30- to 34-inch and 35- to 39-inch size ranges will account for nearly a quarter of all LCD-TV shipments in 2004, says iSuppli.
Price & Availability
Priced at $1,999 (MSRP), the Olevia LT32HV is available late November, and the $2,999 (MSRP) Olevia LT37HV will be available late December. To protect consumers' investments, Syntax provides a standard free on-site one-year warranty and options to purchase extended warranties. Syntax's family of Olevia LCD TVs are currently sold through leading consumer electronics retailers including ABC Warehouse, American TV, CompuSmart (Hartco), Dakota TV, DataVision, hhgregg, Micro Center, RC Willey, Rent-A-Center, Staples, and many other authorized resellers.
"When we entered this exciting LCD TV market only nine months ago, we committed to our retail customers that Syntax would continue on its mission to offer feature-rich products, with the highest specifications, quality and competitive pricing," said Denis Karpeles, Syntax's Senior Vice President of Sales and Marketing. "Our new Olevia LCD TVs and LCOS TV models are proof positive of our continuing dedication of delivering to the consumer what they demand at affordable prices."
Olevia 50-Inch LCOS TV Now Available for Holiday Entertainment!
For consumers who desire a large, truly affordable rear projection TV this holiday season, Syntax's new 50-inch Olevia LCOS (liquid crystal on silicon) technology TV (LCT50HV) is immediately available from PC Connection (www.pcconnection.com) currently priced at $2,099.
According to iSuppli, in 2005 the total Rear Projection TV (RPTV) market will grow 14.7 percent to 6.4 million units. Worldwide shipments of LCOS rear-projection TVs will rise to 32,000 units in 2004, up 164 percent from 12,000 in 2003, and increase 142 percent to 78,000 units in 2005.
Syntax's Olevia 50-inch LCOS RPTV incorporates a three-panel subsystem (R,G,B) that allows excellent color reproduction and vivid images with a remarkable 1400 x 1050 pixel resolution. Utilizing a 1080i HDTV format with true 720P images, the 50-inch LCOS TV consists of liquid crystals on silicon, acting like tiny mirrors, with a highly reflective aluminum coating. When light passes through the glass panels to the lens, it is either reflected or blocked, thereby modulating the light to produce bright, clear, stunning images under any room lighting.
The richly-appointed Olevia LCOS TV features 1388 x 780 native resolution (1920 x 1200 under DVI and 1280 x 1024 under VGA), 16:9 aspect ratio, a typical 1000:1 contrast ratio, 1,000 Nits brightness with preset and adjustable modes, progressive scanning, 3:2 pull down, a wide 170/170 horizontal viewing angle, and 3D comb filter for sharp images. The Olevia LCOS TV includes NTSC signal support, noise reduction, five positions of Picture-in-Picture with three enlargement settings, DVI/HDCP inputs for current video equipment compatibility, and two 25W audio surround sound speakers. In addition to the Olevia's component inputs (YCbCr and YPbPr), it has a VGA port for connection to a PC as a 50-inch multimedia display ideal for use in corporate boardrooms.
About Syntax Groups
Headquartered in Southern California, Syntax Groups Corporation (www.syntaxgroups.com) is a complete vertically integrated R & D, manufacturing and channel sales company of high value consumer electronics and computer technology convergence products for the post-PC era. Through its joint venture company, DigiMedia (www.digimedia.com.tw), formed in Taiwan with Taiwan Kolin Company (TSE 1606.TW, www.kolin.com.tw), Syntax Groups controls a powerful end-to-end supply chain including R & D and manufacturing of backlights for its LCD TVs, optical engines for LCOS TVs, a strategic relationship with Chi Mei Optoelectronics (TSE 3009.TW, www.cmo.com.tw) for Olevia's high-grade LCD panels, mass production manufacturing of LCD TVs and LCOS TVs, quality control, channel sales, marketing and distribution with a solid back-end customer support program. Syntax sells its full-featured Olevia LCD TVs though a rapidly growing channel network of consumer-direct online partners, and regional and national retail stores in North America, and internationally in Southeast Asia. To support the dramatic growth of its operations, Syntax recently relocated its corporate headquarters into new, larger premises located at 20480 E. Business Parkway, City of Industry, CA 91789.

Syntax Groups Corporation and Olevia are trademarks of Syntax Groups Corporation.