Sunfire Announces Dynamic Series Budget Subwoofers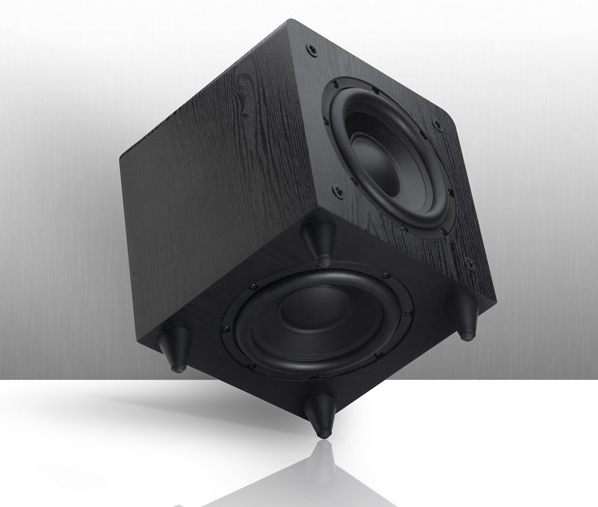 Sunfire Dynamic Series Subwoofers
Sunfire today announced the worldwide introduction of its powerful, yet budget-friendly Dynamic Series of subwoofers.  Tuned for both low frequency Home Theater Effects and powerhouse musical bass lines, these new subwoofers boast up to 600 Watts Peak Power. The Sunfire Dynamic Series' 8", 10" and 12" Subwoofers are the perfect blend of form and function and the ideal choice for systems where small size and high output are required.  Sunfire's new digital amplifier delivers from 400 to 600 Watts of cool running peak output in the three models, with unprecedented performance at this price point. Each subwoofer features a Sunfire-designed woofer and acrostically matched passive radiator – twice the speakers for twice the bass.  The DS family is also the first in the Sunfire line built around energy efficient Class-D amplification, dynamically adjusting the output of the subwoofer's power supply to suite the requirements of the incoming audio signal. Add a low-power standby mode with signal-sensing power on/off and you have a solid performer over time, while continuously variable phase, crossover and volume controls mean fast and precise setups. An optional 2.4GHz wireless transmitter and receiver make "no-new-wires" possible, even in challenging environments. Up to 4 receivers and subwoofers are supported from a single transmitter.
"For the last fifteen years, Sunfire's customers have been obsessed with performance," said Mark Weisenberg, Sunfire General Manager. "Our new Dynamic Series builds on our pedigree of subwoofer excellence and delivers unsurpassed bass-for-the-buck. Now more enthusiasts than ever will be able to enjoy the Sunfire experience in their homes."
Other products found in this price range simply focus on the quantity of output over a limited frequency range, limiting the quality of performance to only a few kinds of material. Today's consumer watches and listens to a wide variety of content – TV, movies, music, games, etc. – using the same system, which demands both quality and quantity. Sunfire engineers designed these speakers with the company's proprietary Frequency Filtration Design (FFD), preserving a spectral balance across the entire bass frequency range to deliver superior balance and definition PLUS high output no matter what source material is being used. In subwoofer terms, music demands definition over a wider range of bass frequencies, while movies are equalized for optimum performance at slightly different frequencies to accentuate the special effects— the Sunfire Dynamic Series achieves both.  Small rooms, big bass - no problem!
The Sunfire Dynamic Series is available in three sizes, the SDS-8 8" driver, at 32Hz-150Hz, with a peak power of 400W, the SDS-10 10" driver, at 30Hz-150Hz, with a peak of 500W and the SDS-12  12" driver, at 28 Hz-150Hz, at 600W peak power.  The SDS-8 lists for a US MSRP of $350, the SDS-10 for $450, the SDS-12 for $550 and the optional 2.4 GHz wireless kit for $150.  The speakers are available for immediate delivery.
Sunfire Dynamic Series Features & Specs

Front firing active woofer, down firing passive radiator
Fiber composite, poly-coated woofers
Sealed cabinet with low distortion, computer-optimized woofers
Optional 2.4GHz wireless transmitter and receiver for no-new-wires installation
High efficiency Class-D digital amplifier
Low-power standby mode with signal-sensing power on/off
Continuously variable phase, crossover and volume controls
High-pass, line-level outputs
Gold plated connections
Black ash cabinet
SDS-8 - 8" driver, 32Hz-150Hz, Peak 400W
SDS-10 - 10" driver, 30Hz-150Hz, Peak 500W
SDS-12 - 12" driver, 28 Hz-150Hz, Peak 600W
About Sunfire
Founded by renowned audio innovator Bob Carver, Sunfire designs, develops, manufactures and markets the smallest, most powerful speakers, subwoofers and amplifiers in the world.  Sold in over 65 countries, Sunfire combines unconventional thinking with precision engineering to create innovative theater products that deliver exceptional performance – whenever, and wherever, they are heard. Carver's thirty five years of scientific research have resulted in numerous patents including the Tracking Downconverter™ power supply used in the company's receivers and amplifiers; and High Pressure, High Back-emf technology found in the company's speakers. Complete information on Sunfire, its products and technology, is readily available at http://www.sunfire.com.
dcl posts on November 20, 2012 09:55
Sunfire Wireless

Following the instructions the transmitter & receiver units (about cigarette pack size) were in place in five minutes. The signal synched without problem. I often find the receiver unit no longer atop the subwoofer (Sunfire True Jr.) having been vibrated off & laying helter skelter on the floor facing away from & blocked from "view" of the transmitter unit. The sub is in a corner 15 feet away. The signal has yet to be lost so I do not bother to right the receiver unit anymore. I am not affiliated with Sunfire, just pleased with a product that works & frees up the sub from wires & the limitation that come with wires.
emorphien posts on December 05, 2010 12:25
The SDS-12 is the same price as the SB12-NSD (at least for now, it's supposed to go up $100 after the sales end) that I'm enjoying. Wonder how they compare, I see the Sunfire is a bit larger overall than the SVS.
Trezl posts on December 05, 2010 11:54
I picked up an SDS12 a couple weeks ago (I guess they were released before this press release).

It is extremely compact considering the 12" woofer (the box is similar in size to some 10" subs I was looking at). I have a small room, so I needed something compact for the WAF. Plus, I was able to get it for under $500 and stay within my budget.

At this point, I'm very happy with my purchase.

I have not checked out the wireless adapter, but it sounds very interesting. I'd actually like to move it from the front of the room to the back eventually.
GranteedEV posts on December 01, 2010 19:27
SDS-12 looks decent.
sholling posts on December 01, 2010 14:54
j_garcia, post: 770359
That was my concern with the Audioengine ones - they say line of sight and there are distance limitations.
The AE
appears
to be bluetooth with all of those limitations but I can't say for sure. I could get the receiver and transmitter paired but I couldn't get a signal to my sub. The 20 foot distance was well within BT's 33 foot rating but it was a lost cause. Anyway I only paid $450 for the bundle and figure I have nothing to lose since I need an SMS-1 for the ULS-15 in my bedroom.
Post Reply