Sub-$3,000 Olevia 50-inch LCOS TV Debuted by Syntax Groups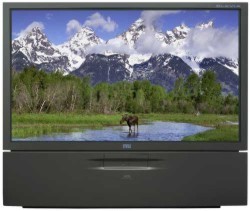 City of Industry, CA - August 24, 2004 - Delivering on its mission to mass produce fully-featured digital convergence consumer electronics products with market-leading low prices, Syntax Groups Corporation*, a complete vertically-integrated R & D, manufacturing and channel sales company, today announced the availability of its first Olevia* LCOS (liquid crystal on silicon) technology rear projection TV (RPTV), end-user priced at an extremely affordable $2,799 including free first-year onsite warranty service. Syntax unveils its new Olevia LCOS TV this week at the HDTV Forum 2004 industry conference in Los Angeles.
Its lightweight widescreen design enables the Olevia LCOS TV to complement nearly any home entertainment configuration. Weighing only 118 lbs., the Olevia 50-inch LCOS TV is packaged in an attractive black cabinet measuring 47.31 inches (W) x 39.3 inches (H) x 19.29 inches (D).
Building on the success of its high value, affordably priced Olevia brand of HD-ready LCD TVs, the new Syntax Olevia 50-inch LCOS RPTV incorporates a three-panel subsystem (R,G,B) that allows excellent color reproduction and vivid images with an remarkable 1400 x 1050 pixel resolution. Utilizing a 1080i HDTV format with true 720P images, the Olevia 50-inch LCOS TV consists of liquid crystals on silicon, acting like tiny mirrors, with a highly reflective aluminum coating. When light passes through the glass panels to the lens, it is either reflected or blocked, thereby modulating the light to produce bright, crisp, clear, stunning images under any room lighting environment.
The richly-appointed Olevia LCOS TV features a 1388 x 780 native resolution (1920 x 1200 under DVI and 1280 x 1024 under VGA), 16:9 aspect ratio, a typical 1000:1 contrast ratio, 1,000 Nits brightness with preset and adjustable modes, progressive scanning (YPbPr), 3:2 pull down, a wide 170/170 horizontal viewing angle, and 3D digital comb filter for sharp images without a "grid" effect. The Olevia LCOS TV includes NTSC signal support, noise reduction, five positions of Picture-in-Picture with three enlargement settings, DVI/HDCP inputs for compatibility with current video equipment, and two 25W audio speakers for surround sound. In addition to the Olevia's component inputs (YCbCr and YPbPr), it has a VGA port for connecting the TV to a computer for a 50-inch multimedia display ideal for use in corporate boardrooms. The Olevia LCOS TV is energy efficient with its low power consumption, and a 120W lamp gives the consumer approximately 10,000 hours of durable entertainment life.
"Leveraging the combined expertise of Taiwan panel technologies and Japanese optical engine design, Syntax Groups, with our partner Taiwan Kolin, has achieved mass production quantities of the Olevia LCOS TV, and can offer it at the most affordable price in the U.S. market," said James Li, CEO of Syntax Groups. "As with our value-priced Olevia LCD TVs, our new LCOS TV further demonstrates Syntax' commitment to producing digital entertainment products with the best specifications and low consumer pricing."
Syntax to Add 63-inch LCOS
In Q1 2005, Syntax Groups will introduce the second member of its mass-produced Olevia LCOS TV line, a 63-inch model with true 1080P images and 1500:1 contrast ratio, end-used priced below $5,000.
About Syntax Groups
Headquartered in Southern California, Syntax Groups Corporation ( www.syntaxgroups.com ) is a complete vertically integrated R & D, manufacturing and channel sales company of high value consumer electronics and computer technology convergence products for the post-PC era. Syntax currently sells its full-featured 20-inch ($649), 27-inch ($1299) and 30-inch ($1699) Olevia LCD TVs though a growing channel network of consumer-direct online partners, and regional and national retail stores. Syntax Groups maintains a competitive advantage over global brands due to its technology and engineering, lower prices, lower cost infrastructure, rapid channel distribution, and quick response to market dynamics. Through its joint venture company, DigiMedia ( www.digimedia.com.tw ), formed in Taiwan with Taiwan Kolin Company (TSE 1606.TW, www.kolin.com.tw ), Syntax Groups controls a powerful end-to-end supply chain including R & D and manufacturing of backlights for its LCD TVs, optical engines for LCOS TVs, a strategic relationship with Chi Mei Optoelectronics (TSE 3009.TW, www.cmo.com.tw ) for Olevia's high-grade LCD panels, mass production manufacturing of LCD TVs and LCOS TVs, quality control, channel sales, marketing and distribution with a solid back-end customer support program.
Syntax Groups Corporation and Olevia are trademarks of Syntax Groups Corporation