Studios Win First Round Against RealDVD Backup Software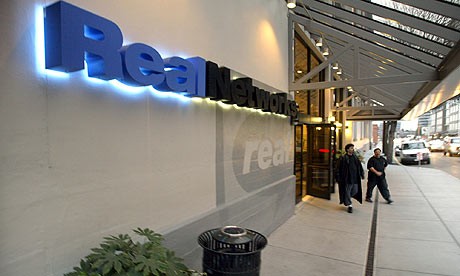 RealNetworks
A lawsuit that began last September by Disney, Universal, Sony and Paramount against RealNetworks has hit its first setback for Real. Judge Marilyn Patel has ruled against RealNetworks' by extending a temporary injunction against the sale of its software, RealDVD.
It looks bad for RealNetworks and quite possibly for any software that allows users to copy DVD movies onto their hard drive. A 58-page ruling negates most of RealNetworks legal arguments in favor of selling RealDVD when the judge decided RealDVD violates federal law. In her ruling she squashed the argument that fair use should allow Real to continue selling RealDVD, the software that lets users back up DVD movies to their hard drive. The ruling also blocks the sale of RealNetworks soon-to-be-released set top DVD player that will also make backup copies of DVDs. 
When this temporary injunction isn't simply a judge reneging on the 'oft touted fair use clause that provides justification for digital backups and time-shifting from that landmark Sony Vs. Universal City. 
According to Judge Patel, RealDVD circumvents CSS (Content Scramble System) setup by the DVD Copy Control Association. The judge found that RealDVD was a violation of CSS, therefore a violation of the DMCA (Digital Millennium Copyright Act). Patel rejected the claim that RealDVD is simply an exercise in fair use. 
RealNetworks has tried to counter with their argument that RealDVD provides law abiding citizens with a means to make legal backups of digital entertainment. The company differentiates itself from ordinary DVD ripping software that simply decodes CSS. Real argues that its RealDVD software, which briefly sold for $30 before the injunction, protects CSS. RealDVD has built-in measures in place that prevent you from burning new DVDs of movies backed up with the software. 
Q: Would anyone who really wants to make illegal copies of rented movies bother to pay for RealDVD? 
A: NO! Not when you can download several other decryption programs available free on the web.
Patel who also presided over the Napster music sharing case in 2001 said: "As a licensee to the [CSS] Agreement, Real had no authority to make RealDVD products that copy DVD content. Other courts have come to this same conclusion... The RealDVD products, by their very nature, open a veritable Pandora's box of liability for Real."
In courtroom drama reminiscent of prime time television, RealNetworks retorted with a fiery argument against the judges ruling:
"We are disappointed that a preliminary injunction has been placed on the sale of RealDVD. We have just received the Judge's detailed ruling and are reviewing it. After we have done so fully, we'll determine our course of action and will have more to say at that time."
Next, the case has to go to trial but no date has been set. Let's hope RealNetworks quagmire leads to an eventual sorting out of the legal contradiction between DMCA and fair use.
Recent Forum Posts:
westcott posts on August 16, 2009 13:41
What a waste of money of the studios. Its like trying to sandbag a dike after it has already burst.

That money could be better served providing what clients want in the format they want it in, at a fair price.

The studios have been sliding down this slippery slope for so long, I think they actually enjoy the ride going down hill!!!!!
hifiman posts on August 16, 2009 12:10
Another poor move that creates an us against them mentality. I wish these media companies would get their act together and provide us with quality content on quality medium and at an affordable price. But no, that takes too much work.
Post Reply