Stewart Launches ISF-Certified GrayHawk RS Screen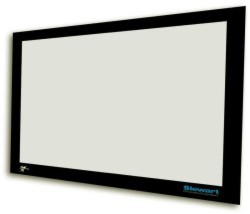 SEPTEMBER 1, 2004 - The Stewart Filmscreen's StudioTek 130 has long been and continues to be the standard reference white screen material of the industry. Now Stewart releases a brand new reference screen for digital projection applications that require gray screen material. Don Stewart and industry expert Joe Kane collaborated in the development of this outstanding new reference screen - GrayHawk RS.
The GrayHawk RS is a neutral density gray screen built on the innovative qualities of Stewart's GrayHawk material. The GrayHawk RS allows the viewer to enjoy the best picture possible from digital projectors by increasing black levels, shadow details, and overall color saturation. For true Image Fidelity in DLP, LCD, LCOS and D-ILA projection, GrayHawk RS is the number 1 choice.
The GrayHawk RS will be on display in Stewart's booth #326 at the CEDIA EXPO 2004, held at the Indiana Convention Center September 8 through September 12. In the case of the GrayHawk RS, seeing is believing.
###
About Stewart Filmscreen
Stewart Filmscreen has been designing and manufacturing the industry's best projection screens for over 50 years. This family-owned business maintains the highest standards in screen design and craftsmanship, and provides superb customer service. Since 1947, Stewart Filmscreen has been the industry leader, earning numerous awards. Stewart brings the same quality and innovation to all viewing environments-film studios, businesses, theatrical venues, aerospace, and the home theatre. More information on Stewart Filmscreen Corporation is available at www.stewartfilm.com .