Stewart Filmscreen Presents "Director's Choice" Masking System at CEDIA 2004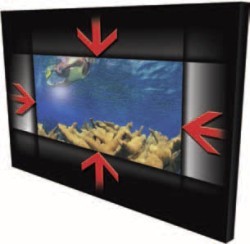 TORRANCE, CA July 21, 2004 - Stewart Filmscreen, multi Academy award winning projection screen manufacturer, will present their new innovative multi-aspect ratio screen ' Director's Choice' at the CEDIA Expo in September Booth # 326.
The Director's Choice provides the viewer with the ultimate viewing experience, by allowing the viewer to watch a movie in the aspect ratio it was originally filmed, in addition to any standard ratio. The screen offers a total of 4 individual masking panels (2 horizontal & 2 vertical) that can be operated independently. The side masking panels move sideways, rather than up and down, offering precise settings, making this technology the first of its kind.
The Directors Choice will be shown with the new Faroudja FDP DILA4 Projector, and the Kaleidescape System . The Kaleidescape System is a whole house movie server that delivers DVD quality video and audio, provides an Award-winning onscreen user experience, and delivers the richest cinematic experience to you in your home.
About Stewart Filmscreen
Stewart Filmscreen has been designing and manufacturing the industry's best projection screens for over 50 years. This family-owned business maintains the highest standards in screen design and craftsmanship, and provides superb customer service. Since 1947, Stewart Filmscreen has been the industry leader, earning numerous awards. Stewart brings the same quality and innovation to all viewing environments-film studios, businesses, theatrical venues, aerospace, and the home theatre. More information on Stewart Filmscreen Corporation is available at
www.stewartfilm.com
.