Statement from Samsung Electronics Regarding US Release of Blu-Ray Player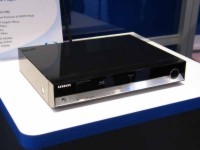 Samsung is rescheduling its initial U.S. Blu-Ray player launch from May 23 to June 25 in order to complete compatibility testing with several Blu-Ray test discs that will become available in late April from product manufacturers and content providers.
The hardware development for Samsung's BD-P1000 Blu-Ray player is complete and ready for mass production in Suwon, South Korea once these compatibility tests are passed. We still anticipate that the Samsung BD-P1000 will be the first Blu-Ray player to launch at a national level in the United Sates. Samsung is also pleased to confirm that two new features have been added to our BD-P1000 model without changing the expected $999 street price. The BD-P1000 will have a native 1080p output via HDMI for Blu-Ray software titles that are digitally mastered in 1920 x 1080 resolution and up to 1080p upconversion of conventional DVDs through the HDMI digital interface. Additionally, we have upgraded the built-in 9-in-2 multi memory card interface to 11-in-2 by adding support for Mini-SD and Memory Stick Pro Duo formats. By including a memory card interface into a Blu-Ray player, the native high definition resolution contained in 3MP or larger digital still pictures can be enjoyed on a high definition television.
As the world's highest ranking Consumer Electronics brand and the fastest growing brand over the past five years, according to Interbrand, Samsung is focused on introducing the latest innovative and best-of-breed products to consumers. Samsung stands behind the quality of our products and, building on our successful history, will continue to introduce products only when a high quality level has been assured.