SRS Labs MDA Multi-Dimensional Audio - the Future-Proof Audio Platform?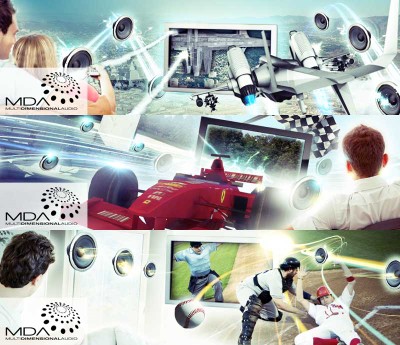 SRS Labs MDA Multi-Dimensional Audio - the Future-Proof Audio Platform?
SRS Labs demonstrated a new end-to-end "Multi-Dimensional Audio" (MDA) platform earlier this year at CES 2012. But what exactly is it, and why is it "revolutionary" as the company exclaims vigorously in its many press releases. Well, MDA basically allows engineers to map all of the surround sound signal into 3D space, storing all of the spatial information of each sound element as metadata. That's completely different than, say, dedicating certain elements to specific channels - as in a 5.1 or 7.1 surround mix. Mixing audio with MDA as opposed to other surround sound platforms, allows a soundtrack to maintain the exact spatial characteristics of the audio as intended by the mixer. In addition, it practically future-proofs the soundtrack, making it compatible with any type of legacy speaker configuration or future platforms. Since the sound is mapped to 3D space - it's up to the DSP to place it into the room regardless of how many speakers there are.
We have to admit - the system sounds intriguing, particularly if it's well-adapted to working with traditional surround sound configurations.
What's revolutionary (we'll give them that) is that missing has been pretty much the same for the past 50 years. While there have been some 3D spacial imaging systems in the past - they have more or less been adapted directly to storing audio to the surround and surround back channels via a joystick-style control. This is new as it involves both DSP and metadata to store surround placement information. Considering how advanced video technology has gotten, it's actually surprising this hadn't come up sooner. Add to that the almost ridiculous disagreements between Dolby, DTS, Audyssey and SRS regarding how surround sound should be encoded, arranged, and played back - and you can see how a system like this can unify what is a potentially disastrous future for surround audio.
MDA allows storing of multi-dimensional audio space information that includes height, depth and width, rather than standard planar (2D) speaker configurations such as 5.1 and 7.1. Since MDA is not channel based, there is no restriction or mandate on the number of speakers that can be used to represent the resolution of a multi-dimensional audio space. Yet, MDA program playback easily maps to any number of speakers in any configuration a listener may have, from stereo, to 7.1 and, yes, even Audyssey's over-ambitious maximum number of speakers in their 11.1 configuration.
MDA-capable devices will be capable of presenting a multi-dimensional audio experience via any number of speakers, on headphones, or through the use of spatial processing techniques. It's universally compatible with current and future speaker configurations and user listening preferences, thus the claim of being completely "future-proof".
This is pretty impressive and, if adopted, may just be the go-to mixing paradigm of choice for re-recording engineers who would like their program material to work across a variety of platforms. With that said, we're also sure there will be an encode-decode solution that will make MDA work even if the material was not originally encoded using the SRS Labs process.
Recent Forum Posts:
sholling posts on March 14, 2012 02:07
It does sound interesting.
DS-21 posts on March 13, 2012 02:59
Seems like a riff on Trinnov to me.
jliedeka posts on March 12, 2012 16:01
Seems like an elegant solution, assuming they have thought through the details.

Jim
Post Reply