Spotify Announces Platform with AppFinder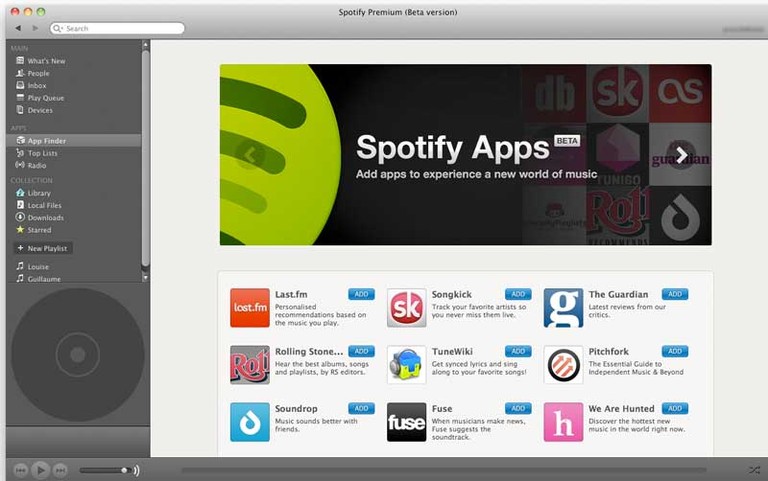 Spotify Platform with AppFinder
Spotify is a fast-growing music service that allows you to build radio stations from your favorite artists. Spotify Platform is something new, however, and it gives 3rd party developers the chance to build music apps that take advantage of the Spotify music platform. The free apps are designed to integrate with Spotify, both visually and functionally, and users can use and download the apps via the new App Finder available at www.spotify.com/us/download/previews/
There are already 12 Spotify Apps with more on the way. Partners include some pretty big names like Billboard, Fuse, The Guardian, Last.fm, Moodagent, Pitchfork, Rolling Stone, Songkick, Soundrop, TuneWiki and We Are Hunted. Top10 and ShareMyPlaylists apps are also due out soon. In September, Spotify integrated rather tightly with Facebook and, as a result, added over 7 million new users in just 2 months. Spotify Platform is designed to innovate through the use of anything its users and developers can dream up. The company even gave examples like DJs creating custom playlists for fans and even virtual clubs that would play their music.
Spotify CEO and Founder Daniel Ek had this to say about it:
"Once you take a look, you'll see why we believe this is truly the beginning of something game-changing for digital music. We think this will lead to integrations that keep Spotify beautiful and simple, but layer in great musical experiences designed to be social and fun. It's what our users have been asking us for." 
Spotify Platform beta is now live as a preview. For more information about the apps please visit www.spotify.com/apps. The full consumer rollout will take place later this month (December).