SpectraCal Announces Automatic Calibration of Panasonic HDTVs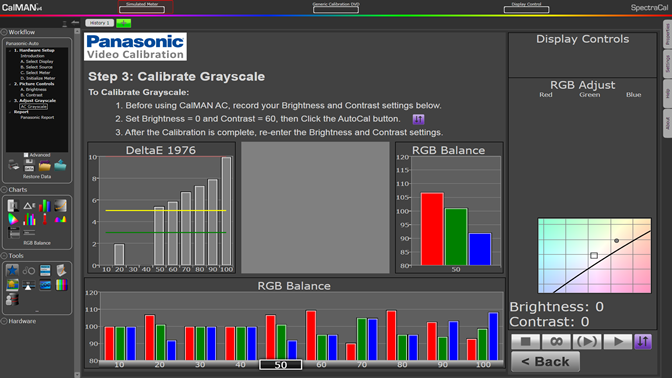 SpectraCal Automatic Calibration of Panasonic HDTVs
This week, SpectraCal announced that Panasonic has enabled automatic calibration of all of their 2011 HDTV models. New workflows in SpectraCal's award-winning video calibration solution CalMAN automatically calibrate the 2011 Panasonic displays via Viera Net IP connectivity. First, picture controls such as brightness, contrast, color, and tint are available directly from inside CalMAN, without needing a remote control. Second, CalMAN's Interactive Charts allow you to say what results you want, leaving CalMAN and the display to work together to achieve those results. Finally, you can just push a single button and watch CalMAN perform a complete 11-point white balance calibration. This is very cool.
Calibration results are stored in the ISFccc (Imaging Science Foundation Certified Calibration Configuration) day and night memories. SpectraCal Chief Technical Officer Derek Smith said that Panasonic engineers worked very closely with SpectraCal to ensure optimal results and the company provided SpectraCal with unprecedented access to controls for optimizing the displays.
The results for the installer are faster and easier calibrations with better results. You can even set an option to specify how long you want CalMAN to work. The default option is a quick calibration, but you can crank it up if you want and bring it close to perfect. SpectraCal has already demonstrated the new Panasonic workflows at press briefings in Los Angeles this month.
For more info visit: www.spectracal.com/panasonic.
About SpectraCal
SpectraCal provides everything needed for calibrating video displays:  award-winning software, a wide range of colorimeters and spectrophotometers for accurate color measurement, the best available test pattern sources, and a comprehensive education program.
ratso posts on June 09, 2011 11:55
one of the really big problems with having something "auto calibrated" that i can see is that most people won't like it. sux but true. when i use my colorimeter/ColorHCFR to calibrate my tv, most people that see it don't like it. and i can go on and on about it being "technically correct" and "what the director intended" blah blah blah. but almost everybody thinks it's "too dark". i call it the best buy effect.
Patrukas777 posts on June 08, 2011 16:11
Awesome…Pretty soon we'll all be able to just sit in one place and control everything with a button or two. Things just keep getting more and more easier.
GranteedEV posts on May 16, 2011 03:50
gene, post: 811273
Agreed. Most modern displays have pretty accurate color to begin with. Setting the black level correctly is the most important thing when getting a display out of the box.
I think the main thing is (at least the argument THAT ) every individual unit will have different calibration numbers, and shouldn't be calibrated until a good amount of phosphor wear/settlement has occured.
gene posts on May 15, 2011 22:56
If color calibration can now be automated, why don't they just do it at the factory before they sell it to you? Sure, leave the "blind-me-bright" setting on the TV for sitting on the sales floor, but put in a "Actually color calibrated" preset video mode, too.

I honestly believe there's no reason we can't have a fairly color accurate product direct from the manufacturers. You can disagree with me if you make your living doing video calibrations.
Agreed. Most modern displays have pretty accurate color to begin with. Setting the black level correctly is the most important thing when getting a display out of the box.
Casey01 posts on May 13, 2011 20:49
As much as I would like to see, as suggested. monitors pre-adjusted in the factory, the problem lies with the idea of color accuracy versus what the buyer may think "looks best" to them. The two always don't necessarily go together. I have done calibrations for customers on monitors that after spending a considerable amount of time getting the grayscale and other parameters as accurate as possible only to have the customer, in the end, revert back to the default setting because to them it "looked better". Telling them it wasn't as accurate as my calibration was inconsequential.

Sadly, even though all aspects of a picture can be attained with considerable accuracy, these adjustments aren't for everyone and that is why most of the manufacturers don't bother.
Post Reply