Speck Products Announces Mini iGuy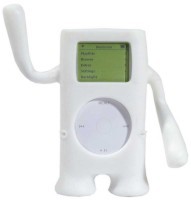 PALO ALTO, Calif - July 13, 2005 - Speck Products announced its latest iPod accessory, mini iGuy -- a fully functional case and toy for mini iPods. The launch of iGuy (for clickwheel iPods) in May brought on an onslaught of sales, press and publicity for Speck Products -- the initial stock of thousands was sold out within two weeks. Following the successful launch of iGuy, iGuy mini is the highly awaited 'little brother' and newest addition to the family.
"Since our explosive iGuy release in May, mini iPod owners have been anticipating the release of iGuy for mini," said Tim Hickman, general manager of Speck Products. "The iGuy mini is even more portable than his big brother. The smaller size makes it much lighter and easier to carry around."
iGuy mini's white rubberized case features arms that bend to pose, and legs that fold and stretch outright to sit on the dock and recharge. The case includes a tough, removable screen protector, and enables full access to the control, headphone plug and hold switch.
The iGuy is designed to fit mini iPods, both 4 and 6 gig, and retails for $34.95. To purchase an iGuy online, visit www.speckproducts.com . iGuy mini will soon be available on retail shelves worldwide as well.
Speck Product offers the largest selection of cases for the 4G, Mini iPod, and Shuffle iPod, many of which are available at major resellers including Apple Store, CircuitCity, Frys, Wal-mart.com, Amazon, RadioShack, and more. The company is headquartered in Palo Alto, Calif. For more information, send email to [email protected] , or visit www.speckproducts.com .