Soundcast Unveils iCast and AudioCast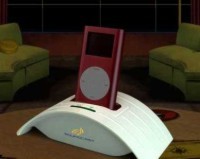 CHULA VISTA, Calif. - April 10, 2006 - Soundcast Systems, a leading provider of revolutionary wireless audio transmission systems, today released two breakthrough products iCast(TM) and AudioCast(TM) designed to offer the highest-quality wireless transmission from digital music players or personal computers to home stereo systems. Soundcast's iCast is built to work exclusively with the Apple iPod(TM), while its sister product, AudioCast is compatible with other devices, such as personal computers or MP3 players.
"Consumers are looking for an easy solution to listen to digital music on their home theatre systems that offers both clarity of sound and a simple set-up process," said Tim Bajarin, president, Creative Strategies. "With the recent explosion of MP3 player sales, the iCast and AudioCast products are poised to become a welcome addition to the digital home audio revolution."
iCast and AudioCast offer a convenient, wireless way to link a digital music player and home stereo system without running wires and drilling holes in the walls. Each receiver comes with all the cables needed to connect to the home stereo or multi-media amplified speakers. With iCast, the iPod simply fits into the transmitter in an Apple approved dock. The AudioCast transmitter can be connected to any brand of MP3 player or to a personal computer using the supplied accessory cables. The stylish iCast and AudioCast transmitters come in white to match most iPods or MP3 players, and the receivers are black to easily tie in with the other consumer electronics that are already in a home.
"There have been hundreds of wireless products developed over the years claiming to deliver an impressive quality of sound yet all of them have fallen short of that promise due to their innate susceptibility to interference, which can significantly degrade the audio quality to the point where the music is not audible," said Rusty Bennett, vice president of Soundcast. "We're thrilled to release the iCast and AudioCast systems as the first solutions to effectively transmit a clean signal and enable unprecedented, crystal clear sounding music from an iPod, personal computer or MP3 player even in those interference-filled environments throughout the home."
With effortless plug and play installation, no complex programming and a simple, sleek interface, iCast and AudioCast form a wireless bridge between an audio source such as an iPod or MP3 player and a home stereo system. Unlike competing solutions available to date, both products effectively eliminate outside interference caused by other household devices that share the crowded 2.4GHz band, including microwave ovens and cordless phones. In addition, no network set-up expertise is required for the consumer, as the receiver and transmitter are self enabling and link immediately, once they are installed in the home.
Based on Frequency Hopping Spread Spectrum (FHSS) technology, Soundcast's engineering team has refined its patent-pending wireless technology to allow transmitters to search for open channels in the 2.4GHz band, and instantaneously jump to them ultimately avoiding interference and allowing for unprecedented sound quality. iCast and AudioCast can transmit signals up to a distance of 150 feet through multiple rooms indoors, and even farther outdoors. Both systems co-exist with other devices operating in the 2.4GHz band, including Bluetooth, 802.11 and related products.
About iCast
The iCast transmitter comes with approved, interchangeable inserts that accommodate different iPod models. Tracking and menu controls operate while the iPod is installed in the dock and transmitting music to the receiver, and the docking unit serves as a battery charger for the iPod. The iCast receiver also duplicates several key iPod functions to allow users to operate their music players remotely from another room in the home.
About AudioCast
AudioCast provides the same functionality as iCast for non-iPod devices. With AudioCast a 3.5mm mini-jack connects any product with a stereo signal output, including portable MP3 players, portable CD players, personal computers or home electronics products such as a cassette deck or CD changer, to a home audio system. All the connecting cables required are supplied with the units.
Soundcast products coexist with all 2.4 GHz devices and with additional Soundcast systems. As many as three Soundcast systems can operate in close proximity. By achieving this level of service, the iCast and AudioCast can now be securely used in high-density multi-unit dwellings (MUD). Each Soundcast transmitter can operate with two receivers, allowing the creation of multi-zone systems. With AudioCast it is also possible to link two transmitters to the same source, making a low-cost, wireless four-zone system possible.
Pricing and Availability
Each iCast and AudioCast transmitter and receiver will be packaged and sold separately to make multi-zone systems easy to assemble. They will be available during April 2006 in retail stores and online for a suggested retail price of $299 for an iCast system (transmitter and receiver), and $129 for each additional iCast receiver. The AudioCast system (transmitter and receiver) will retail for $249 with additional receivers at $119 each (US). For more information please visit: www.soundcastsystems.com .
About Soundcast
Soundcast Systems is a privately funded wireless technology company offering revolutionary plug and play wireless audio transmission systems that overcome 2.4GHz band interference, and empower digital music enthusiasts to listen to music in high-quality sound throughout the home. In 2005, the company developed a unique 2.4GHz audio transmission technology that prevents transmitted signals from being distorted by outside interference such as cordless phones and microwave ovens. Since then, Soundcast has developed easy to install, modestly priced, high-performance wireless audio transmission systems that send tunes wirelessly from an audio source (such as a digital music player) to an audio sound system anywhere in the home. In 2006, Soundcast announced iCast and AudioCast, which play high-quality audio from digital music players throughout the home. iCast is designed to work exclusively with the iPod(TM), while AudioCast is compatible with non-iPod devices. Without compromising audio quality, Soundcast makes going wireless easy. For additional information, visit www.soundcastsystems.com.