Sony's XBRITE Display Technology Offers Improved Contrast & Brightness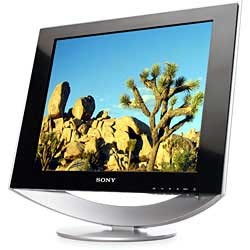 SAN DIEGO - A PC next to a bright window? No problem now that Sony has incorporated its high-brightness XBRITE™ technology into two new flat panel computer displays.
The SDM-HS74P and SDM-HS94P, with 17-inch and 19-inch viewable image sizes respectively, feature a special LCD panel, originally introduced on Sony's VAIO® PCs, that allows the displays to deliver superior brightness and enhanced contrast even when placed in a sunlit room.
"Consumers are pushing the limits of their displays more and more these days to play games, watch movies and organize photos," said Jim Neal, group general manager for Sony's IT display products. "Sony's XBRITE technology, combined with a new digital input and an award-winning design, enhances the value of the display as a PC tool."
Sporting a high-brightness panel, the displays also include Sony's ErgoBright™ technology, a feature that enables users to adjust brightness settings in one touch, with minimal loss of contrast or color fidelity. The HS74P has a 500:1 contrast ratio and the HS94P has a 450:1 contrast ratio. Both models also come equipped with digital and analog inputs for simultaneous connectivity to multiple PCs.
With varying viewing options and a fast response time, the HS74P and HS94P displays enhance the user's experience - from movies and gameplay to photos and web browsing. In particular, the HS94P offers one of the fastest response times of a LCD on the market, clocking in at a 12 milliseconds.
Available in black and silver, these new displays also sport Sony's popular modern frame design that appears to float in the air due to a softly curved metallic base that lifts the panel from the desktop. Additionally, they feature flexible viewing angles that tilt to several different positions, up to 20 degrees.
Available in July, the HS74P display will be priced at about $600 and the HS94P will be priced at about $850.