Sony Releases TDM-IP1 iPod Dock for Bravia Systems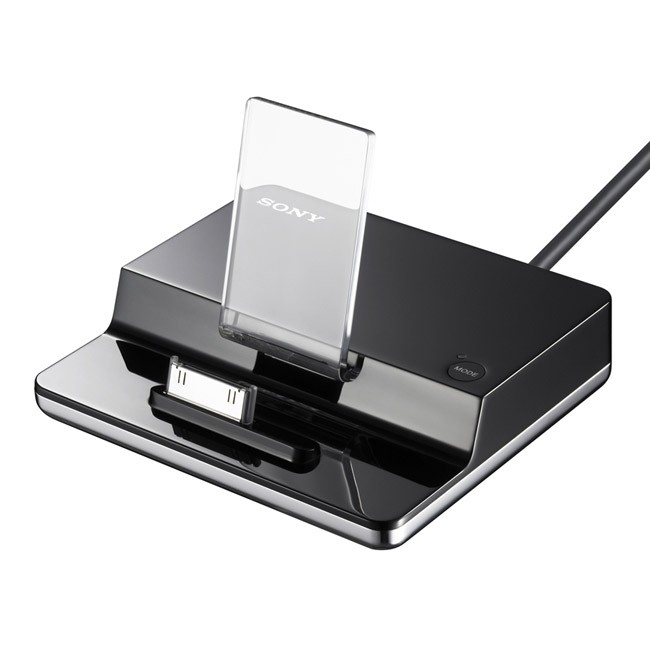 Sony TDM-IP1 iPod dock
Sony recently revealed its new TDM-IP1 Digital Media Port (DMP) dock which allows users to connect their iPods to their Bravia home theater systems and AV receivers. Big deal, you might say - but consider that it is a rather astounding thing to see Sony allow Apple any leeway into its consumer electronics products.

The TDM-IP1 is priced at $99 and is styled to blend in perfectly with Sony's new Bravia line of products. With a piano black finish and a clear support for the iPod, it's a rather nice complement to Sony's lifestyle category products. In terms of use, the TDM-IP1 allows users to view and listen to their iPod audio and video library on their televisions while simultaneously charging the iPod. This makes this a very desirable and convenient addition to have if you are already in possession of a compatible Sony product with Digital Media Port.
This product is compatible with the iPod nano (1st and 2nd generation), standard iPods (4th and 5th generation) and the iPod mini.
This is certainly a collaborative product that we can appreciate and give kudos to in the marketplace.
Specifications
Composite Video Output
Power: 5VDC, 0.7A
Dimensions 3.5" x 3" x 2.5" (90 x 78 x 65 mm) WxDxH
Weight: 0.5 lbs (220g)
Cable length: 6ft (2m)
Compatible Models
DAV-HDX265
DAV-HDX267W
DAV-HDX500
HT-7100DH
HT-DDW790
HT-DDW990
STR-DG710
STR-DG810
STR-DG910
For more information, check out the
SonyStyle
website.
Seth=L posts on April 05, 2007 23:44
That isn't terribly surprising considering Apple is on Blu-ray's board of directors. It seems logical they would make some deals with each other. Apple isn't going to join hands with Sony just because they said so, Apple has to get something in return right?
Post Reply