Sony Introduces RDR-HX900 DVD+-RW w/Hard Drive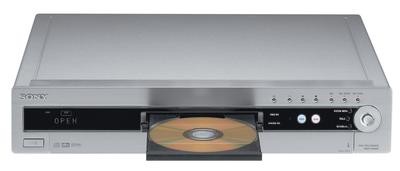 NEW YORK, May, 2004 - Sony today announced the RDR-HX900, a Dual RW compatible recorder with a high-capacity 160 GB hard disk drive and an advanced on-screen TV program guide, designed for the sophisticated DVD enthusiast and time shifter.
Utilizing Sony's leadership in the dual compatible DVD category, the RDR-HX900 is compatible with DVD+RW/+R and DVD-RW/-R disc formats. The RDR-HX900 gives users the widest selection of recording and viewing choices and also incorporates several picture improvement technologies for outstanding picture quality whether viewing from the HDD or creating enhanced DVD recordings.
For simple and precise screen navigation, it includes an easy-to-use graphical user interface (GUI) and allows recording from broadcast programs via off-air antenna, cable, or satellite receivers.
"Flexibility and ease-of-use are among the most important features consumers look for in DVD recorders," said Phil Abram, vice president of marketing for Sony Electronics' Home Audio/Video Group. "The success of our first model last year proved that consumers have a strong demand for format flexibility, the RDR-HX900 answers their demands and also gives them archiving capabilities to take advantage of DVD format benefits."
Advanced Recording Features for Storing Programs and Memories
Featuring a 160 GB hard disc drive, users can record and store up to 204 hours of their favorite TV shows on the RDR-HX900 recorder. Exciting shows and programs --- such as season finales, Reality TV series, milestone episodes and guest celebrity appearances --- can now be stored on the hard disc drive to watch later, or conveniently burned onto any format DVD for archiving or sharing with family and friends. In addition, the timer recording feature takes the hassle out of recording TV programs through an easy on-screen program guide.
The RDR-HX900 can record at HQ+ mode in the hard disk drive, which is approximately 1.5 times greater than the highest possible bit rate recording on DVD. The HQ+ mode, along with Dynamic Variable Bit Rate, provide outstanding picture quality and especially beneficial when recording quick and complex motion images or playback from the HDD. In addition, the RDR-HX900 features 24 times high speed dubbing from HDD in SLP recording mode to a DVD disc.
The RDR-HX900 also provides seamless integration with compatible camcorders through its front panel i.LINK® interface for DV/D8 connection for easy tape to disc content transfer. In addition to allowing simple camcorder hook-up, the i.LINK (DV/D8) interface enables users to control the connected camcorder via the supplied Remote Commander® remote control. Expediting the content transfer process, users can copy the entire contents of their DV or D8 tape by selecting the convenient one-touch dubbing feature.
Convenience, Advanced Editing and Unsurpassed Video Performance
Easy to use Graphic User Interface, on-screen electronic programming guide and IR blaster (for satellite and cable box control) make recording, editing and organizing video content a simple task. The new DVD recorder offers advanced editing features from camcorder tape content. The two basic options include either first downloading the entire contents onto a DVD disc and then editing the content in a non-linear fashion right on the disc, or more traditional linear editing directly from the tape.
The RDR-HX900 also features Time Base Correction, Pre Frame Noise Reduction and Pre-video Equalizer technologies that rebalance and equalize video content before it is recorded onto a DVD, improving the original source content even before the encoding process begins.
In the output phase, the RDR-HX900 recorder employs Frame Noise Reduction, Block Noise Reduction and Video Equalizer technologies combine to produce a richly textured visual rendition while minimizing picture interference caused by background artifacts or distortion.
The new recorder also incorporates proprietary DVD playback technology called Precision Cinema Progressive™, which incorporates Pixel-by-Pixel I/P Conversion technology to augment and balance DVD-video elements. Additionally, a 12bit/108MHz Video D/A Converter ensures exceptional picture quality for an unforgettable viewing experience.
The RDR-HX900 will be available in November for about $1,000.
VHS and DVD in Seamless Harmony
Consumers with large VHS collections can now make digital archives of their favorite content with Sony's new DVD Recorder/VCR combo, the RDR-VX500. Offering format flexibility with DVD+RW/+R/-RW/-R recording compatibility and easy bi-direction dubbing from VCR to DVD recorder, sharing and archiving memories and onto a digital format has never been more convenient. In addition, it allows for DV/Digital8 Camcorder tapes to transfer onto DVD discs via an i.LINK connection.
Additional features include Progressive Scan Output for DVD (480P) for high-quality video reproduction, JPEG Digital Image and MP3 Playback (CD-R/RW) for multimedia compatibility, VCR Plus+(r) Programming for easy navigation and control. On-screen Easy Operation of all major functions
The RDR-VX500 will be available in October for around $600. Rounding out the expanded line-up is the entry-level recorder, the RDR-GX300, available in July for around $500.