Sony Debuts 42-inch PlasmaPro Display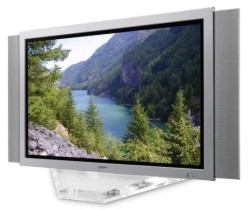 SAN DIEGO, March 14, 2005 - Sony Electronics today introduced a 42-inch flat panel plasma professional display. The FWD-42PV1 plasma flat panel display has several features that make it well-suited for the demands of today's business environment, including a category-leading 10,000:1 contrast ratio, W-VGA resolution (852x480), and the ability to display images and video from a wide assortment of inputs and formats.
It also features two slots to accommodate a television tuner and the BKM-FW32 network card, enabling users to monitor the display's status and troubleshoot multiple networked displays from one central location. Delivering a lower total cost of ownership, due in part to low power consumption, adds to the model's overall value.
According to Jim Neal, general manager for display product marketing in Sony Electronics' Home Products Division, "The unmatched contrast and value of the FWD-42PV1 make it an ideal display for any corporate customer looking to deliver stunning video, signage or advertising content." Additional features include:
Panel brightness: 1500 cd/m2
Front-of-the-screen brightness: Approximately 500 cd/m2
Power Consumption: 260 W (Typical), Stand-by: 1 W (120V), 0.7 W (100V)
AC Outlet: For convenience of system integration. Can supply power to equipment such as twisted pair transceivers up to 0.5 A
Special edition model FWD-42PV1A/S works effectively at high altitudes, which can affect standard plasma displays
Optional integrated speakers, delivering 7 watts per channel, for a total of 14 watts (sold separately)
The FWD-42PVI display will be available next month for about $2,400.