Sonos Introduces Its Controller for Android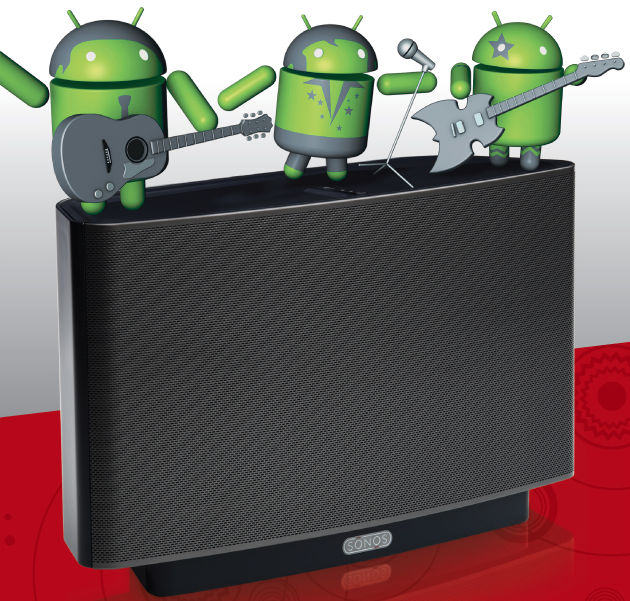 Sonos Android Controller
Sonos introduced the Sonos Controller for Android this week, a free app that transforms most Android smartphones into a wireless music controller for the company's Multi-Room Music System. The Sonos Controller for Android, available in March as a free download from Android Market, will make its public debut next week at Mobile World Congress in Barcelona. With the award-winning Sonos S5 in any room and an Android phone in hand, music lovers will enjoy an unmatched wireless music experience in the home. You'll be able to access and play a multitude of music and playlists from the Internet to your personal music library – all throughout the home, wirelessly. And with the free Sonos Controller for Android app, you can control all your music in every room instantly, all from the palm of your hand. In addition, the Sonos Controller for Android features Sonos' latest innovation in the home music experience – music voice search – allowing users to find any artist, album or track by simply speaking into the phone.
To enjoy music in any or every room of the home, all you need is a Sonos ZonePlayer and a Sonos Controller such as the free Sonos Controller for Android. The most popular Sonos ZonePlayer is the Sonos S5, an all-in-one wireless music system you can plug in anywhere. With the S5 you can play any track you like, anytime you like, in any room you like. Wirelessly play the same song in every room of the house – perfectly synchronised. Or, mix it up and play different songs in different rooms.
When it comes to controlling Sonos, simply reach into your pocket for your Android smartphone. With Sonos Controller for Android, you can search for songs and stations by typing or speaking, select the music and control the volume in as many rooms as you like. And because your Android phone is controlling the music, and not the source of it, when a text comes in or you need to make a phone call, the music doesn't stop.
Sonos connects directly to the Internet so you can access a world of music without ever turning on your computer. Search and play more than 100,000 Internet radio stations, shows and podcasts – from around the world. Play songs, playlists and radio from the most popular music services like Deezer, Last.fm, Napster, Internet Radio, Spotify, Wolfgang's Vault, and more. And of course, Sonos can play your entire digital music library (such as iTunes) stored on a computer or Network Attached storage drive.
The Sonos Controller for Android is designed to work on any Android smartphone running Android 2.1 or later with a screen size of HVGA 320 x 480, WVGA 480 x 800 or WVGA 480 x 854. Sonos Controller for Android joins the family of Sonos Controllers which includes free apps for iPhone and iPad, a dedicated touchscreen controller, the Sonos Controller 200, and free software for your Mac or PC, included with every ZonePlayer. All controllers work together seamlessly.
For more information about Sonos or to locate an authorized Sonos dealer in your area, please visit www.sonos.com.
About Sonos
Sonos is the leading developer of wireless multi-room music systems for the home. The Sonos Multi-Room Music System is the first, wireless multi-room music system that lets you play all the music you want all over your house – and control it all from the palm of your hand. Sonos liberates the music stored on a computer so it can be enjoyed all over the house. In addition, by partnering with audio services like Audible.com, iheartradio, Last.fm, Napster, Pandora, RadioTime, Rhapsody, SIRIUS Internet Radio, Spotify, Wolfgang's Vault, and more, Sonos gives music lovers instant, computer-free access to millions of songs, thousands of radio stations, audiobooks, and more. The award-winning Sonos Multi-Room Music System is available at more than 6200 retailers in over 65 countries worldwide; or direct from Sonos at www.sonos.com. Sonos is a privately-held company, headquartered in Santa Barbara, CA with offices in Cambridge, MA, Hilversum, Netherlands and Penang, Malaysia.
krzywica posts on May 16, 2011 16:59
BoredSysAdmin posts on May 16, 2011 16:13
BoredSysAdmin posts on April 19, 2011 09:37
krzywica posts on March 22, 2011 21:09
Oh really? I have been doing this for months from XBMC and the Official XBMC remote for Android. Oh and its 100% free.
Todesengel posts on March 04, 2011 11:25
Jed M, post: 797615
HOLY SHITE! Its about time! Way to go Sonos!
Agreed, times two!
Post Reply