Sonance Transforms Mariner Outdoor Speakers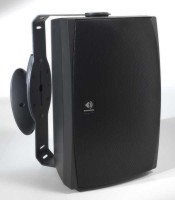 SAN CLEMENTE, CA - June 27, 2005 - Offering eight new models to meet a wide variety of consumer needs, Sonance®, the leader in architectural audio, introduces its entirely new Mariner® line of outdoor speakers. Highlighted by measurably improved performance, the new Mariner line includes a unique, new wire routing system and sealed enclosures for greater protection from the elements, as well as a new, exclusive, mounting system for greater installation flexibility.
"Our goals for the new Mariner line were to provide superior audio quality and durability for the consumer, while developing new ways to make installation faster and easier for our dealers," said Scott Sylvester, Sonance director of product strategy.
According to Sylvester, the company's new FastMount® mounting system and Protected Access Connection Terminal System (PACT) offer installers and consumers "a unique mounting system with significant advantages in both placement flexibility and installation speed over any mounting system ever introduced."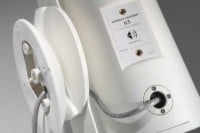 Mariner's FastMount brackets can be mounted flush against a wall, horizontally across a corner, or on a pole, while allowing the speakers to remain as close as one inch from the mounting surface with a full 180 degrees of pivot. When mounted in the brackets, the speakers' horizontal rotation is regulated by an indexed positioning system, ensuring secure and consistent positioning that can be repeated from one speaker to another, guaranteeing a uniform look and sound field projection.
"Each position clicks in place, so installers can easily find the right position and replicate it from speaker to speaker. It takes the guesswork and eyeballing out of the installation that can be so time consuming," said Todd Ryan, Sonance chief speaker engineer.
No tools are required to attach or position the speakers to the brackets with the FastMount system. And to add a measure of security and guard against accidentally dislodging the speaker from the bracket during cleaning or house maintenance, the speakers lock into the brackets, with a release tab that has been located behind the speaker grille for protection.
Sonance has also incorporated its new PACT cable routing system, which while offering greater protection to the terminal connections from moisture and debris, also makes installation faster and hassle-free. The PACT system allows the cable to be fed through a rubber grommetted wire entry port on the rear of the speaker and through a channel inside the speaker to the terminals that are located in a compartment on front of the speaker. That compartment is then covered by a front-mounted access cover, which snaps into place and provides additional protection from outside elements.
"The PACT system provides the maximum in moisture and debris protection," said Ryan, "but it also simplifies the installation process. Once the speakers are mounted and positioned, the terminal connections are accessed from the front. No more fumbling behind the speaker or pivoting the speaker to access the terminals - all while balancing on a ladder."
Bigger Speakers, Bigger Sound
While FastMount and PACT offer significant advancements for the installer, the entire Mariner line has also undergone a sound transformation. The line's new flagship model, the Mariner 82, offers a full 8" woofer, among the largest woofers in its class, for increased bass frequency response, a more robust sound, and higher power handling for no-compromise outdoor listening. New Mariner models 63, 62 and 61 also offer a larger woofer (6-12") than their predecessors, while new models 52 and 51 utilize a 5-1/4" woofer, which is larger than the woofer in the Mariner Jr. speakers they replace. All the new Mariner speakers, except the 61 and 51, use 1" tweeters; models 61 and 51 utilize a ¾" tweeter.
New to the line are two "Single Stereo" speakers, models 62SS and 52SS. Mariner Single Stereo speakers reproduce both the left and right channel of the stereo signal from a single cabinet speaker, and are used when space or other placement considerations make it impractical to create a balanced sound field. Where the 62SS uses a 6-1/2" woofer, the 52SS's woofer is 5-1/4". Each uses two 1" polyurethane dome tweeters.
According to Ryan, new materials and designs make the 2005 Mariner speakers more weather resistant than previous models and guarantee they will perform well for years even under the most adverse conditions. All employ a rectangular shaped, sealed polypropylene enclosure, with perforated aluminum front grilles to increase their resistance to moisture penetration. And all incorporate Sonance's new PACT system to protect terminal connections from the harmful effects of moisture and debris.
All Mariner speakers, available in black or white, will be available in July. All are also compatible with the popular Omnimount 20.5-series mounting hardware.
Pricing
  Model Price 
  Mariner 82 $750/pair 
 Mariner 63 $650pair 
 Mariner 62 $550pair 
 Mariner 61 $450pair 
 Mariner 62SS $375each 
 
 Mariner 52 $350/pair 
 Mariner 51 $299pair 
 Mariner 52SS $275each 
Further information can be obtained by contacting the company at 212 Avenida Fabricante, San Clemente, CA 92672 by calling 1- 800-582-0771, or by visiting www.sonance.com .
Company Information
Founded in 1984, Sonance of San Clemente, Calif., is the originator and leading developer and manufacturer of elegant, high-fidelity architectural audio products that create a harmonious blend of sound and design. Featuring innovative solutions favored by leading architects and interior designers, Sonance has consistently provided inventive answers for the needs of their customers.