Sonance Introduces Cinema Select In-Wall Speakers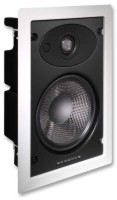 Focusing on high performance home theater surround sound systems for moderately-sized rooms, Sonance unveiled its new Cinema Select line of THX Select certified in-wall home theater loudspeakers. The line consists of two models, a main channel LCR speaker and a surround channel speaker, both designed to deliver accurate, cinema-quality sound in rooms up to 2000 cubic feet. Featuring advanced carbon fiber cone woofers, innovative design elements like a tweeter back chamber, and Sonance's integrated RotoLock® fasteners for quick, reliable and secure in-wall mounting, the new Cinema Select speakers offer measurably superior audio performance, ease of installation, and attractive pricing.
"Many home theaters are installed in rooms under 2000 cubic feet, which presents an ideal opportunity for an in-wall surround sound solution," said Mitch Witten, Vice President of Sales and Marketing. "The Cinema Select line gives consumers and installers a 'no compromises' in-wall option for certified THX Select quality audio for smaller rooms. Our innovations in design and materials show why Sonance has always been, and remains, the premier brand in high fidelity in-wall speakers for video and music applications."
Witten said that the key advantage of the new carbon fiber woofer cones is their increased stiffness, which eliminates spurious resonance, a source of distortion. A die-cast aluminum woofer basket maintains a more precise alignment of voice coil and cone even under high power operation, which also prevents the occurrence of distortion. The new acoustic back chamber for the tweeter yields a smoother high frequency performance and helps disperse sound evenly over the defined sound field.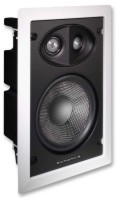 Both the Cinema Select LCR and SUR models feature a new ¾ -inch thick MDF baffle for reduced resonance; the baffle is 15-33% thicker than those in most other in-wall speakers. The new 4-point mounting system utilizing our proven RotoLock system reduces installation time by one third. Precision-machined aluminum grilles provide a durable, low profile appearance, and can be painted to match walls.
Each magnetically-shielded Cinema Select LCR speaker (each sold separately) is designed expressly for front Left, Center or Right channel home theater system use. Designed to fill a small to moderate sized room with a sizeable "sweet spot" that gives multiple listeners a proper sonic balance, the LCR features one 1-inch (25mm) Ferrofluid-cooled silk dome tweeter, and a 6.5-inch (135mm) Carbon Fiber cone woofer with a rubber surround. The installed footprint of the LCR speaker is 8-1/8" (206mm) x 12-3/16" (310mm).
Cinema Select SUR speakers (sold in pairs) feature a wide-dispersion monopolar design that is engineered to create a superior, diffused sound field for movie and music surround sound applications. Their small size - the installed dimensions are 8-1/8" (206mm) x 12-3/16" (310mm) - make them an excellent choice for installations where superior sound is required but space is limited. Offering outstanding bandwidth and an installation-friendly package, the SUR features two 1-inch (25mm) Ferrofluid-cooled silk dome tweeters, and the new 6.5-inch (135mm) Carbon Fiber cone woofer with a rubber surround.
Established as a performance benchmark for home entertainment systems, the THX Select specification provides uncompromising performance standards for smaller living spaces, offering consumers the assurance that the Cinema Select speakers are the best in class, said Witten.
The Cinema Select LCR have an MSRP of $425.00 (each), while the Cinema Select SUR have an MSRP of $850.00 (pair).
Further information can be obtained by contacting the company at 212 Avenida Fabricante, San Clemente, CA 92672 by calling 1- 800-582-0771, or by visiting www.sonance.com .