Sling Media Announces Two New SlingLink Powerline Ethernet Adapters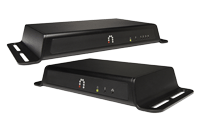 SlingLink Turbo AC Networking
FOSTER CITY, CA – June 18, 2007 – Sling Media, Inc., the Emmy Award-winning creator of the Slingbox™, today announced SlingLink™ TURBO 1 Port and SlingLink TURBO 4 Port, two new HomePlug® powerline solutions designed to make connecting your Slingbox and other home entertainment devices to your network a snap. SlingLink TURBO offers a higher speed connection between the Slingbox and the router creating a better Slingbox experience for customers. The new SlingLink products are available today from Sling Media's web site, www.slingmedia.com, for an MSRP of $99.99 and $149.99 respectively. In addition the SlingLink TURBO 4 Port is available in many retail locations including Best Buy, Circuit City, Amazon.com and Buy.com, with the SlingLink TURBO 1 Port hitting retail shelves in the coming weeks.
"We want to provide our customers with easy-to-use networking solutions to connect their Slingbox to their broadband connection regardless of where their AV source and network reside in the house," said Rich Buchanan, vice president of marketing for Sling Media. "The SlingLink TURBO 4 Port solves many of the challenges a consumer has when trying to connect multiple AV devices like a Slingbox, an Xbox or a TiVo to a single Internet connection in another room in the house. Both SlingLink TURBO products deliver the performance and quality Slingbox customers have come to expect from us."
Compatible with any home router, SlingLink TURBO takes advantage of existing electrical wiring in the home. Packaged as a pair, one SlingLink TURBO plugs directly into an AC outlet near your router while the other SlingLink TURBO is connected near the device you want to network. The result is an instant high-speed Ethernet network without running any new cabling or trying to configure a wireless connection between the two devices. The SlingLink TURBO 1 Port connects one device, like a Slingbox, while the SlingLink TURBO 4 Port connects up to four devices such as a DVR, gaming console or any Ethernet-based consumer electronic product.
"HomePlug technology is a robust solution for connecting various networked entertainment devices to a broadband home entertainment network due to its inherent stability, noise immunity, security, interference-resistance and whole-house coverage," said Rick Furtney, COO of Intellon Corporation. "Sling Media's Slingbox is an ideal application for HomePlug-based technology, and they are offering their customers two HomePlug solutions based on differing customer needs."
Both new SlingLink TURBO products feature Intellon Corporation's INT5500 HomePlug 1.0 with TURBO chipset, an 85Mbps PHY-rate device which assures that the broadband link is stable and robust, providing the bandwidth needed for a single device as well as multiple AV devices should a customer need the SlingLink TURBO 4 Port solution. Since it is not outlet-mounted, the new SlingLink TURBO provides greater flexibility for consumers who now have multiple entertainment devices which need to be networked to a broadband backbone. The majority of these new devices require increased bandwidth and intelligence in their support of new applications. The SlingLink TURBO 4 Port is the perfect complement to the increased level of sophistication being sought by today's techno-savvy consumer.
Pricing and Availability
The SlingLink TURBO 4 Port is available at leading retailers including Best Buy, Circuit City, Amazon.com and Buy.com as well as Sling Media's web site for an MSRP of $149.99. The SlingLink TURBO 1 Port is available immediately from Sling Media's web site at www.slingmedia.com and will be available in other retail channels in the coming weeks at an MSRP of $99.99. The SlingLink TURBO 1 Port will also be available for purchase in the UK in the coming weeks through existing Sling Media retail channels and on Sling Media's UK web store, http://uk.slingmedia.com/page/home. In addition the SlingLink TURBO 4 Port is available for purchase in Canada through retail partners Best Buy, Future Shop and London Drugs with the SlingLink TURBO 1 Port coming to the same retail stores in the weeks ahead.
About Sling Media
Sling Media, Inc. is the world's leading digital lifestyle company offering consumer services and products that are a natural extension of today's digital way of life. Sling Media's product family includes the internationally acclaimed, Emmy award-winning Slingbox™ that allows consumers to watch and control their living room television shows at any time, from any location, using PCs, Macs, PDAs and smartphones. For more information on Sling Media or the Slingbox, visit www.slingmedia.com.