Sling Media Launches Slingbox in Canada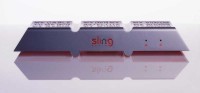 SAN MATEO, CA - March 30, 2006 - Sling Media, Inc., a digital lifestyle consumer electronics products company, today announced that its award-winning Slingbox™ is now available across Canada from premiere retailers including Best Buy, Future Shop and London Drugs. Sling Media is working together with Keating Technologies, an award winning sales, marketing and support outsourcer and Ingram Micro, the leading Canadian distributor, to launch the Slingbox in the Canadian market. The Slingbox is available for order online immediately and in retail stores in April for $299 CAD.
The Slingbox is a breakthrough consumer electronics device that enables consumers to watch their living room TV programming from wherever they are by turning virtually any Internet-connected Windows-based laptop or desktop and any Windows Mobile-based handheld computer or smartphone into a personal TV. The Slingbox redirects, or "placeshifts," a single live TV stream from a basic cable connection, cable box, satellite receiver or digital video recorder (DVR) to the viewer's PC - located anywhere in the home or anywhere in the world, via the Internet.
"We've had a strong response from Canadian consumers from the moment we launched our product in June, 2005 and we are very pleased to finally enter the market today," said Blake Krikorian, co-founder and CEO of Sling Media. "The Slingbox will transform the way Canadians watch television and combined with our SlingPlayer Mobile software, Canadians will also have the ability to access their home TV using a variety of handhelds and smartphones."
Last week Sling Media announced a public beta program for its SlingPlayer Mobile software. This software is available for download from Sling Media's web site, www.slingmedia.com, and gives Slingbox customers the ability to watch and control their home TV from any handheld computer or smartphone based on Microsoft's Windows Mobile operating system. Sling Media is pleased to announce that SlingPlayer Mobile is available today as a free download for registered Canadian Slingbox customers. Starting April 26th the software will cost $29.99 USD and includes a free 30 day trial. However, all Slingbox owners who buy and register a Slingbox prior to April 26th receive a free license for the final production version of the SlingPlayer Mobile software.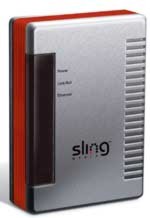 In addition to the Slingbox announcement, Sling Media is introducing into Canada the SlingLink, a powerline Ethernet adapter solution that connects a Slingbox to a home network for customers whose TV and Internet connections are located in different rooms in the house. SlingLink uses the electrical circuitry in a home to connect the Slingbox to a home Internet connection. SlingLink will be available from Canadian retailers who offer the Slingbox, and will cost $129 CAD.
About Sling Media
Sling Media, Inc. is a digital lifestyle products company creating a family of consumer electronics solutions that are a natural extension of today's digital way of life. The first member of the Sling Media family is the award-winning Slingbox™, a device that allows consumers to access their living room television experience at any time, from any location, using a variety of different displays including laptops and desktop PCs, PDAs and smartphones. For more information on Sling Media or the Slingbox, visit www.slingmedia.com .