Slim Devices Squeezebox v3 Shipping!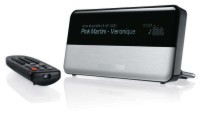 MOUNTAIN VIEW, Calif. - Oct. 25 - Slim Devices, Inc. today introduced its 3rd generation Squeezebox network music player, the perfect gift for the digital music lover on any holiday shopping list. The player, from the award-winning manufacturer of devices that stream digital music and internet radio stations to a stereo, can be ordered starting today through Slim Devices' web site .
"Our new device will shine as part of the stereo in any room," said Patrick Cosson, VP of Sales and Marketing. "We took the technical lessons of our past products and wrapped them into a cutting-edge design to redefine the network music player category."
The mission of Slim Devices-making simple and easy to use home network devices that leverage today's powerful home computers-inspired the new slim vertical case and stunning aqua-blue display. The new Squeezebox, which is available in black or white and wireless or wired-only configurations, is a study in down-tempo, modern design, appropriate for any setting. The contrast of highly polished material against a crisp brushed metal fascia is a fitting reflection of the sophisticated technology held within.
Fred Bould (www.bould.com), an internationally renowned California-based designer of cool, modern housewares and home furnishings designed the player. His works enjoy wide distribution nationally and have received numerous awards such as inclusion in the San Francisco Museum of Modern Art Permanent Design collection.
The player includes support for 802.11g wireless, dual internal antennas, 24bit Burr-Brown DAC, digital and analog jacks, and support for SqueezeNetwork, the new service that enables Slim Devices players to connect to Internet radio and RSS feeds without needing a computer.
With the simultaneous release of SlimServer 6.2-the companion open source software, Slim Devices introduces:
Hardware support for WMA radio and files on all operating systems.
Wake-on-LAN support.
Support for Unicode fonts, providing for Chinese, Japanese, and Hebrew text.
An extended radio directory to easily access the best Internet radio stations.
"The more our daily lives revolve around technology, the more manufacturers need to consider the aesthetics of the objects they produce to create the perfect blend of form and function," added Patrick Cosson. "Technology is a small part of the whole experience we call Squeezebox." Images of the new players are available on Slim Devices web site (www.slimdevices.com). The new players will be released in distribution and can be purchased directly from Slim Devices. The retail prices are $299 for Wireless Squeezebox and $249 for Wired Squeezebox. The new Squeezebox will begin shipping in one week. Orders may be placed immediately at Slim Devices' web site.
Click here for Audioholics' Review of the Squeezebox2
About Slim Devices
Slim Devices, founded in 2001, is the worldwide pioneer of network entertainment products for users of personal computers and the Internet. Slim Devices' innovative hardware and Open Source software are setting the standard for an exciting new product category. The Slim Devices logo and Squeezebox are trademarks or registered trademarks of Slim Devices, Inc. Other trademarks are the property of their respective holders.