Slim Devices Squeezbox Upgraded with Graphics Display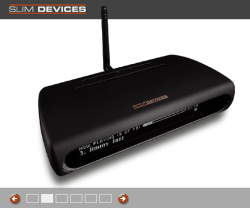 MOUNTAIN VIEW, Calif., Aug. 13 - Slim Devices, Inc. today introduced an update to Squeezebox(TM), the award-winning networked music player with that streams digital music from a user's computer to any stereo or home theater. The updated player features a new bitmapped graphics display and is available through Slim Devices' website, http://www.slimdevices.com/ , and through authorized resellers for $199 USD for the wired-only model and $279 USD for the wireless model. The display is also available separately as an upgrade module for $69 (after a $20 rebate).
Benefits of the new graphics display include:
Increased readability when browsing and selecting music

Improved display of song information

Support for a variety of font sizes and designs

Support for graphic animation and music visualization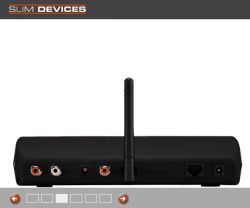 "By improving the display, Squeezebox further differentiates itself from the competition," said Patrick Cosson, Vice-President of Sales and Marketing. "Not only is Squeezebox the best platform for listening to digital music at home but now we are redefining the visual experience that accompanies music listening. We expect our open source community to grab a hold of these new tools and add many exciting features in the coming weeks."
The new version of Squeezebox includes all the features that have made it popular since its introduction in November 2003:
Digital outputs to connect to any home theater or stereo receiver, as well as high-quality analog RCA outputs;
Support for MP3, WMA, AAC, FLAC, WAV, AIFF, and Ogg Vorbis audio formats;
Compact design for easy placement anywhere in the home;
802.11b or ethernet network connection;
Support for multiple players to create an affordable whole-house audio solution.
The original Squeezebox received numerous awards and rave reviews from around the world including:
"Best of Show" -- Macworld Expo 2004
"Best for Lounges" 5 stars out of 5 -- Stuff Magazine UK, March 2004
"Editors Choice Consumer Hardware" nominee -- Macworld UK, April 2004
"Mobile Choice" 4 1/2 stars -- MobilePC Magazine, August 2004
About Slim Devices
Slim Devices, founded in 2001, is the worldwide pioneer of network entertainment products for users of personal computers and the Internet. Slim Devices' innovative hardware and Open Source software is setting the standard for an exciting new product category. The Slim Devices logo and Squeezebox are trademarks or registered trademarks of Slim Devices, Inc. Other trademarks are the property of their respective holders.