Slim Devices Adds Rhapsody to Lineup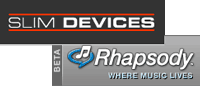 MOUNTAIN VIEW, Ca. and SEATTLE, Wa. - July 6, 2006 - Today, Slim Devices, Inc., the developer of the Squeezebox Internet music player, and RealNetworks, the leading creator of digital media services and software, announced the integration of the Rhapsody online music service with the current generation of award-winning Squeezebox devices. The Squeezebox enables consumers to access more than 2 million tracks available today in Rhapsody as well as their entire personal digital music collection, from the comfort of their living room.
"We're very excited to bring Rhapsody to our Squeezebox community and to create a truly interactive way to discover music from anywhere in your home." said Patrick Cosson, VP of Sales & Marketing of Slim Devices. "Pick a song, any song, and hear it now. That's the promise this partnership fulfills by combining two best-of-breed solutions with your stereo."
On July 6th, Slim Devices releases SlimServer 6.3, which includes full support for Rhapsody. The Rhapsody music service will be offered via a free firmware upgrade to Squeezebox owners available at http://www.slimdevices.com/su_downloads.html. After completing the firmware update, Squeezebox v3 and Squeezebox2 owners can try the Rhapsody online music service with their Squeezebox for free for 30 days. Customers can choose to continue their Rhapsody service beyond their month-long trial for only $14.95 per month. Details can be found at http://www.rhapsody.com/slimdevices .
Slim Devices' Squeezebox delivers pure digital sound throughout the home without the hassle of shuffling through CDs. With a simple remote control, Squeezebox works with just about any home stereo to provide instant access to digital music collections on home computers, Rhapsody's robust music catalog, a broad selection of Internet radio stations and thousands of themed playlists.
Rhapsody is the latest content partnership announced by Slim Devices. In the last 6 months, Slim Devices added support for Pandora and Radioio SoundPass in addition to existing relationships with Shoutcast, Live Music Archive and Live365. "Thanks to these partnerships, you can do things with a Squeezebox that you could never do with even the most advanced, sophisticated (and expensive!) CD players on the market. This kind of content is critical to increasing the market penetration of network music players and we are planning even more interesting additions to the Squeezebox experience in the near term," added Patrick Cosson.
About Slim Devices
Slim Devices, founded in 2000, is the worldwide pioneer of network entertainment products leveraging the power of Internet and personal computers. Slim Devices' innovative hardware and Open Source software are setting the standard for an exciting new product category. The Slim Devices logo, Squeezebox, SqueezeNetwork, and SlimServer are trademarks or registered trademarks of Slim Devices, Inc.
About RealNetworks
RealNetworks®, Inc. is the leading creator of digital media services and software including Rhapsody®, RealPlayer® 10 and casual PC and mobile games. Broadcasters, network operators, media companies and enterprises use RealNetworks' products and services to create and deliver digital media to PCs, mobile phones and consumer electronics devices. Consumers can access and experience audiovideo programming and download RealNetworks' consumer software at http://www.real.com . RealNetworks' systems and corporate information is located at http://www.realnetworks.com .