Silicon Image Unveils Mobile High-Definition Link (MHL) Products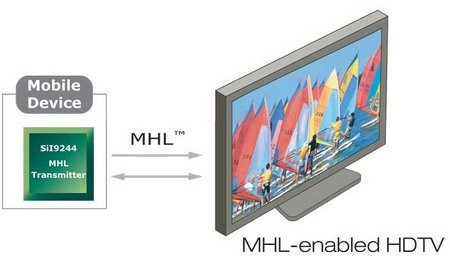 Silicon Image Unveils First MHL Products
Silicon Image announced the availability of its first products that include support for the new MHL (Mobile High-Definition Link) standard – an MHL transmitter, an MHL-to-HDMI (High-Definition Multimedia Interface) bridge and an MHL-enabled HDTV port processor. MHL is a new mobile HD interface standard optimized for directly connecting mobile phones and other portable devices to high-definition televisions (HDTVs) and displays, while simultaneously providing power to charge mobile device batteries over a single cable.
With the introduction of three new parts, Silicon Image will enable manufacturers of mobile devices, HDTVs, cables and accessories to quickly build a comprehensive end-to-end mobile HD video ecosystem based on the new MHL connectivity standard. Silicon Image's MHL-enabled products include:
SiI9244 MHL transmitter for power-sensitive mobile devices

SiI9381A HDTV port processor for both HDMI and MHL connectivity

SiI9292 MHL-to-HDMI low-power bridge

"To meet consumers' expectations for portability while providing the full HD experience, video and audio should flow seamlessly from mobile devices to televisions and other displays. Building on its market-leading experience in connectivity solutions for consumer electronics (CE) devices, Silicon Image enhances interoperability between mobile and HDTV applications through a single cable, simplifying the connected home theater experience."
- Michael J. Palma, senior research analyst for consumer device semiconductors at International Data Corporation (IDC)
SiI9244 MHL Transmitter
The SiI9244 is an MHL transmitter for HD video and audio designed for power-sensitive consumer electronics devices such as mobile phones, digital cameras, portable media players and HD camcorders. Eliminating the need for an extra connector, the SiI9244 enables a cost-effective, low-pin count connectivity solution for the delivery of HD content.
SiI9381A HDTV Port Processor
The SiI9381A port processor seamlessly interfaces with MHL-enabled mobile devices such as mobile phones and tablets. The SiI9381A also supports four HDMI inputs with InstaPort S – Silicon Image's single-second HDMI port switching technology and integrates HDMI 1.4 Audio Return Channel and Content Type detection.
SiI9292 MHL-to-HDMI Bridge
The SiI9292 is integral to the design of low-power, MHL-to-HDMI accessory devices such as docking stations, converters and adapters, enabling HD video and audio connectivity between MHL-ready mobile devices and HDTVs with HDMI inputs.
HD video has become a key differentiating feature for today's mobile devices, but the small form factor of the mobile screen, while convenient, limits the HD viewing experience. Today's HDMI-enabled CE products offer consumers connectivity from the mobile device to the HDTV. MHL-enabled CE products further enhance this HD experience by enabling the viewing of mobile device content on the largest available screen without concern over battery life.

About MHL Technology and MHL, LLC
The MHL specification, introduced in June 2010, is an HD video and digital audio interface optimized for connecting mobile phones and portable devices to HDTVs, displays and other home entertainment products. MHL technology features a single cable with a 5-pin interface able to support up to 1080p HD video and digital audio while simultaneously providing power to the mobile device, and utilizing established connectors. MHL, LLC is the agent for overseeing and administering the drafting, adoption, licensing, and promotion of the MHL Specification. The MHL Specification was developed by Nokia Corporation, Samsung Electronics Co., Ltd., Silicon Image, Inc., Sony Corporation, and Toshiba Corporation as a standard for mobile wired connectivity, to enable the development of standard-compliant mobile and display products across a broad connectivity ecosystem. MHL, LLC is a wholly owned subsidiary of Silicon Image, Inc. (NASDAQ: SIMG). For more information, visit http://www.mhlconsortium.org/.
About Silicon Image, Inc.
Silicon Image is a leading provider of advanced, interoperable connectivity solutions that enable the reliable distribution and presentation of high-definition (HD) content for consumer electronics, mobile, and PC markets. The company delivers its technology via semiconductor and intellectual property (IP) products that are compliant with global industry standards and also feature industry leading Silicon Image innovations such as InstaPort™. Silicon Image's products are deployed by the world's leading electronics manufacturers in devices such as desktop and notebook PCs, DTVs, Blu-Ray Disc™ players, audio-video receivers, as well as mobile phones, tablets, and digital cameras. Silicon Image has driven the creation of the highly-successful HDMI® and DVI™ industry standards, as well as the latest standards for mobile devices - SPMT™ (Serial Port Memory Technology) and MHL™ (Mobile High-Definition Link). Via its wholly-owned subsidiary, Simplay Labs, Silicon Image offers manufacturers comprehensive standards interoperability and compliance testing services. For more information, visit us at http://www.siliconimage.com/.