Signeo SOUL by Ludacris Headphones Preview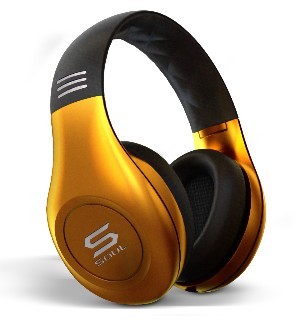 SOUL by Ludacris Headphones
Signeo USA announced the launch of SOUL by Ludacris headphones. In a highly collaborative effort with the Grammy winning and globally renowned artist Chris "Ludacris" Bridges, the SOUL brand kicks off with an initial 5-model line-up of high definition headphones that offer the sound caliber of a professional headphone with a distinct flair for self expression and style. Driven by his famously artistic vision, and supported by an award-winning design team with resume credits spanning from luxury automotive to world-class electronics, the line dons a sleek Beats-style form factor and presents an array of eye-catching colors and uniquely designed styles.
Read and Submit your own User Review for the Signeo Soul Ludicris
The SOUL by Ludacris line debuts with the High Definition Professional SL300 Powered Noise Canceling headphone, High Definition On-Ear models SL150 and SL100, and the SE99 and SE49 High Definition In-Ear headphones. The entire line contains professionally voiced sound technology with advanced circuitry and drivers designed by a team of engineers who have developed some of the most notable acoustic breakthroughs in the audio industry. Elements such as noise cancellation technology and ultra precise audio mix balancing deliver deep bass without sacrificing clarity of mids and highs to provide a listening experience fit for a wide audience that reaches the business traveler or casual music lover to the pro musician or audiophile.
"It was important to our team to create a collection of audio concepts that not only delivers a powerful and precise listening experience, but also embodies the kind of style people look for in a nice pair of sunglasses or even a sports car. Ludacris is a perfect partner for us as he is the consummate individualist and has such a talent for infusing a distinct style into everything he does."
- Bob Bonefant, Executive Director of Signeo USA
The SOUL by Ludacris product line will be exclusively distributed by Ingram Micro, Inc. through its Consumer Electronics Division. The new line is scheduled to hit retail shelves nationwide in early 2011. For More Information, please visit www.SOULbyLudacris.com
About SOUL by Ludacris
Expression, Passion and Superior Sound are at the core of the SOUL by Ludacris ®experience. Here to prove that style and sound quality can coexist, the SOUL line offers an array of personal audio products that masterfully balance elements such as world-class noise cancellation technology with superior sound quality, allowing you experience the full range of your music. Pair that with an award winning design team and the expressive vision of world renowned artist Ludacris, and you get the first headphone that effectively merges style with professional acoustics.
jtcustoms posts on February 09, 2011 20:14
hey man thats pretty cool
Post Reply